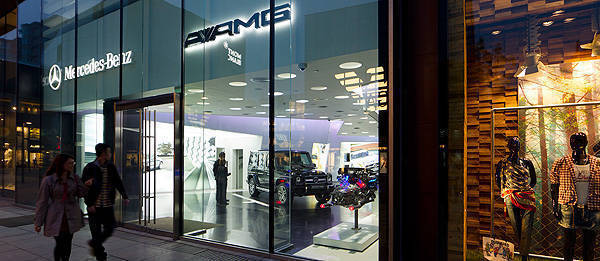 If you're looking for proof that China is indeed the world's largest car market today, then perhaps this should settle it as Daimler, the parent company of Mercedes-Benz and its AMG high-performance arm, has opened the first-ever, stand-alone AMG-exclusive showroom.
Since 2008, 195 of these AMG-exclusive showrooms known as AMG Performance Centers have opened in 18 countries around the world. However, the AMG Performance Center in the Sanlitun Village North shopping mall in Beijing is the first stand-alone concept, thereby putting its focus exclusively on the products and themes of the AMG brand.
"With this new AMG Performance Center in Beijing, we hope to be able to attract and care for current and potential AMG customers," said Ola Källenius, chairman of the board of management of Mercedes-AMG GmbH. "The new store will act as an example for future 'stand-alone' Performance Centers, which are planned for other metropolis."
To mark the occasion, the venue served to host the global premiere of the Mercedes-Benz G63 AMG.
The AMG Performance Center in Beijing has two levels and covers a total surface area of 381sq-m where customers can "inform themselves about current AMG high-performance vehicles and their technological achievements; the AMG Driving Academy; the AMG Collection; and AMG's involvement in motorsports."
Continue reading below ↓
Recommended Videos
In addition, customers can also experience the virtually unlimited individualization possibilities there are when they place an order for their AMG vehicles through the paint and leather trim samples specially created for the store.
Lastly, an elevator gives customers access to the parking spaces in the underground garage directly below the store where numerous AMG vehicles are available for test drives.
[gallery]1208[gallery]