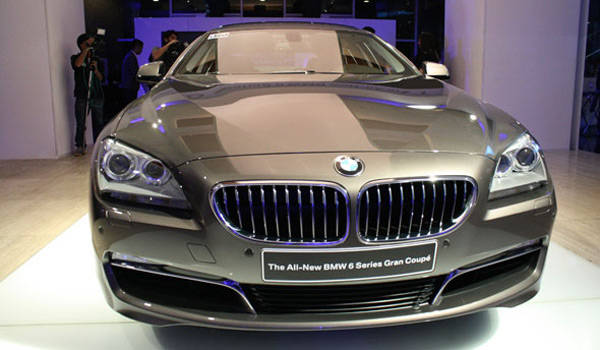 The very first BMW 6-Series, introduced in 1976, was a two-door coupe. Some 86,000 units were made during its production run, which ended in 1989. The model went down in BMW lore as such a revered icon that the Munich-based carmaker decided to revive it in 2003--still as a two-door coupe, but this time supplemented by a two-door convertible version.
Meanwhile, another German car manufacturer by the name of Mercedes-Benz launched a four-door coupe-like sedan in 2004, called the CLS. The idea was to provide the wealthy set with a sporty grand tourer that also offered the four-door convenience of a proper sedan. The concept turned out to be profitable enough for other Teutonic automakers to take serious notice.
Porsche followed suit with the Panamera in 2009, and Audi jumped on the "four-door luxury coupe" bandwagon with the A7 in 2010. It was only a matter of time before BMW did the same.
True enough, BMW unveiled one such model at the Geneva Motor Show in March this year. The automobile was labeled as the "6-Series Gran Coupe." Obviously, the car was based on the third-generation 6-Series, first released in 2011 as a two-door coupe and a two-door convertible. The Gran Coupe, in other words, is the first-ever 6-Series model to be equipped with four doors.
Continue reading below ↓
Recommended Videos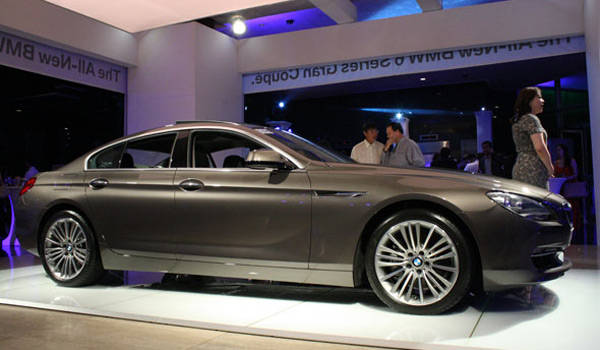 On Thursday night, the all-new 6-Series Gran Coupe officially entered our market, when Asian Carmakers Corporation--BMW's Philippine importer and distributor--launched it with a price tag of P7.79 million. In the metal, the car looked so hoity-toity that host Johnny Litton's constant bitching about Ayala Museum's air-conditioning (or the lack of it) seemed like part of the script.
"The third model in the BMW 6-Series lineup follows in the tire tracks of the Convertible and the Coupe," said ACC president Maricar Parco. "The athletic elegance of the car's design makes it a particularly handsome addition to the range. And the 6-Series Gran Coupe boasts exclusive equipment and a level of practicality unmatched by its premium four-door coupe rivals."
The exact designation of the Gran Coupe brought to our market is 640i, a model powered by a 3.0-liter straight-six gasoline engine that benefits from BMW's TwinPower Turbo technology and advanced eight-speed automatic transmission to deliver fantastic numbers (an output of 320hp; a torque of 450Nm; and a 0-to-100kph time of 5.4 seconds).
The car is long, stretching five meters from bumper to bumper. This should result in a lot of legroom, knee room and all other kinds of room a corporate executive might require to fully appreciate every single curve of his mistress. (Pardon the left-field illustration; Bea Alonzo's beguiling face is still fresh in our heads.)
We won't bore you with the little details--like how this car has an automatic start/stop function, brake-energy regeneration, on-demand suspension hydraulic technology, 19-inch light-alloy wheels, xenon headlights with LED daytime running lights, Dakota leather seats, aluminum doors and hood, frameless windows, et cetera, et cetera. What we want to emphasize is the fact that the BMW 6-Series Gran Coupe is so stylishly luxurious it makes even motoring journalists look like billionaire eccentrics beside it.
If you don't believe us, check out the photo below of our associate editor Paulo Subido, taken in Italy when he drove the car a few months ago. We rest our case.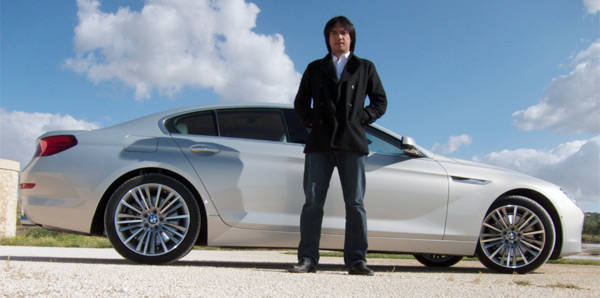 Photos by Tracy Carpena and Paulo Subido