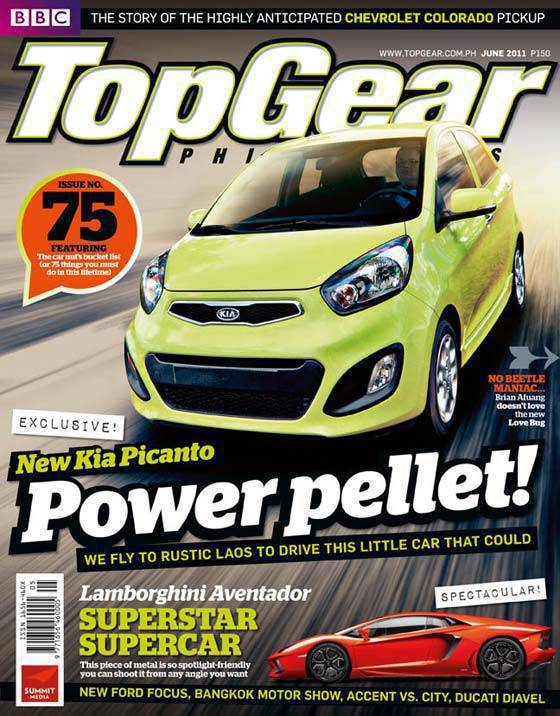 You've probably read our story on Columbian Autocar Corporation's unveiling of the new Kia Picanto. Well, we've got more Picanto news for you: The diminutive hatchback is the main cover car of our June 2011 issue. Before the Philippine market could actually lay eyes (and hands) on this city mover, Kia flew us to Laos for an exclusive test drive. Let's just say our own Stig (aka Botchi Santos) and photographer Mikko David did one heck of a job to bring you a fun-to-read story. Here, then, is our June cover in its full glory. Other stories based on the blurbs are:
* The coolest supercar in the world right now, the Lamborghini Aventador;
* Since this also happens to be our 75th issue, a bucket list of 75 things a car nut must do in this lifetime;
* The new Chevrolet Colorado pickup;
* Brian Afuang's style review of the new Volkswagen Beetle;
* A test drive of the new Ford Focus;
* This year's Bangkok Motor Show;
* The new Ducati Diavel superbike; and
* A head-to-head comparo between the Hyundai Accent and the Honda City.
The June 2011 issue should be out by the first day of the month. Get your copy for just P150.
Continue reading below ↓
Recommended Videos