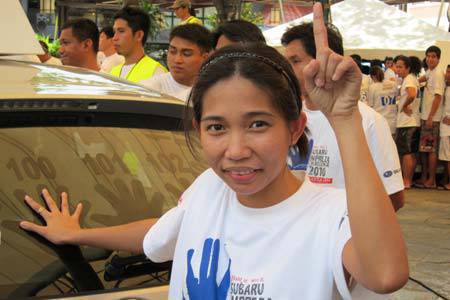 Motor Image Pilipinas declared Apple Joy Lee Balibado as the champion in the Subaru Impreza Challenge – Manila Leg for the second consecutive year as she outlasted 94 other contestants in the competition last weekend.
Balibado held on to the Subaru Impreza for 29 hours, making her the Impreza Challenge – Manila Leg's first back-to-back champion. She's 38 minutes shy of beating her 2009 Manila record.
The 29-year old hardly looked like she's exhausted and when asked how she was feeling after the grueling competition, she merely said, "Okay lang." She did say she'll hit the bed for some well-deserved sleep the moment she gets home.
Balibado will lead nine other Filipinos (see list below) who will represent the country in the upcoming Subaru Impreza Challenge in Singapore. Last year, she managed a 57-hour record to be the last Filipino contestant standing during the regional finals.
The petite contender admits that Singaporeans are really good when it comes to the Subaru Impreza Challenge. The 2009 champion, 40-year old Singaporean Mohamed Anuar, clocked in 77 hours and 43 minutes. George Lee, also from Singapore, holds the all-time record of 81 hours and 32 minutes.
Balibado said she will conduct research on how to outlast other contenders during the regional finals next month.
2010 Subaru Impreza Challenge - Manila Leg
Top 10
Rank
Name
Time
1
Apple Joy Balibado
29h 0m
2
Danilo Biadog
28h 59 m
3
Chrizzar Mallari
28h 58m
4
Ahris Dindo Lindo
28h 57
5
Alex Nebcaoca
28h 53m
6
Ronald Carizo
28h 51m
7
Joseph Soledad
28h 49m
8
Roberto Tomas
28h 37m
9
Darriane Mercado
28h 36m
10
Alrene Lea delos Santos
28h 33m
Check out photos of the events here:
Subaru Impreza Challenge - Manila Leg (Day 1)
Subaru Impreza Challenge - Manila Leg (Day 2)