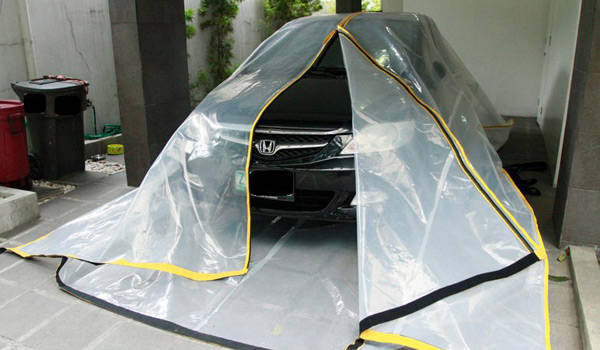 Due to the nonstop rains, we are now seeing floodwaters in Metro Manila and nearby provinces that remind us of Typhoon Ondoy. As in the catastrophic deluge three years ago, we are now also witnessing cars floating or being submerged in water. Definitely bad news for car owners who live in low-lying areas or places prone to flooding.
Their question: What can they do to "flood-proof" their cars?
We here at TopGear.com.ph are now way past the usual list of wet-weather driving tips or reminders about what to do with our cars during a prolonged downpour. Even the best flood-driving tips are no match for weather like this.
But as we scoured the Internet today for practical flood-proof solutions, we stumbled upon this, the Floody Carbag. We found this on a newly created--how convenient (or opportunistic?)--Facebook page supposedly authored by Standard Insurance. The ad for this product purports that this is proudly Philippine-made and that it holds a Philippine patent.
The Floody Carbag is essentially a huge plastic sack big enough to envelop an entire vehicle, which supposedly provides watertight enclosure via zippers. Below are the five steps detailed in the ad (see actual ad below):
* Unzip - "Spread the carbag flat on the ground. Undo the zippers."
Continue reading below ↓
Recommended Videos
* Park - "Drive the car at the center of the bag, either front or rear first."
* Zip up - "Once the car is parked squarely in the middle, close the zippers."
* Lock - "Roll the front end of the bag. Bring both edges together. Fasten the hooks, then place on top of the car's hood or trunk so that no water will seep in."
* Anchor - "Secure the two harnesses around the car. Affix it to a very steady and sturdy structure, such as a foundation post."
The Floody Carbag also features "safety reflectors for night visibility, and easy tie-down strap with hooks."
For how much? The sellers posted the following prices for the carbag: P9,950 for small to medium cars, and P14,950 for SUVs and AUVs.
How to purchase one? We have no idea. But they also posted the following contact numbers for orders: (02) 843-8707 and (02) 843-8708. Any takers?