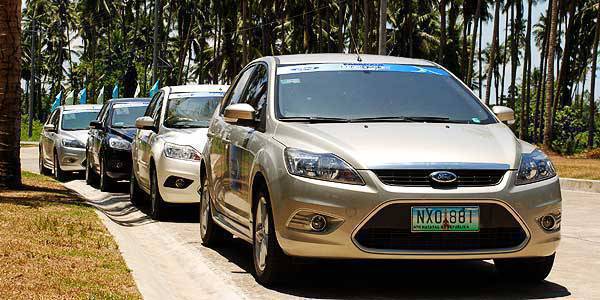 The Ford Focus TDCi proved its improved fuel efficiency when it broke Ford Group Philippines' fuel economy record during a recent four-day eco-marathon from Sorsogon to Pagudpud.
The new Ford Focus traveled 1,432.3 kilometers on one tank full of fuel during the run, 106 kilometers more than the record posted in 2009, during Ford Philippines' Coast2Coast Challenge 2 conducted early this month. The new record was posted by the Tuason Racing School (TRS) for running 25.9 kilometers for every liter of fuel.
"I believe PowerShift technology in the Ford Focus TDCi was key in achieving our objectives," TRS said in a statement provided by Ford Philippines. "It offers motorists the complete package of unmatched performance and fuel economy. The Ford Focus makes use of the latest technology and has, in fact, been receiving various awards, not only in the Philippines but around the world as well."
Continue reading below ↓
Recommended Videos
Aside from TRS, the teams of Auto Review and Top Gear Philippines also broke the Ford Focus' 2009 fuel economy record as they ran 1,375.9 kilometers and 1,347.8 kilometers, respectively.
"Imagine a 2-liter compact car that has the same (or better) fuel economy as a 1.3 liter sub-compact," said Top Gear contributor Mikko David. "Add to that the Focus' impeccable handling and its Euro feel, and you've got a solid base to have fun in.  Whether I am racing it on a track in the Ford Focus Race of Champions, or feathering the throttle for economy runs, the Focus TDCi has proven to be an all-around performer."
The eco-run, held in partnership with TRS, involved Ford Focus TDCi five-door hatchbacks and the new PowerShift transmission-equipped Ford Focus TDCi Ghia sedans launched in April.
Click this link to see the entire Ford Focus lineup available in the Philippines.