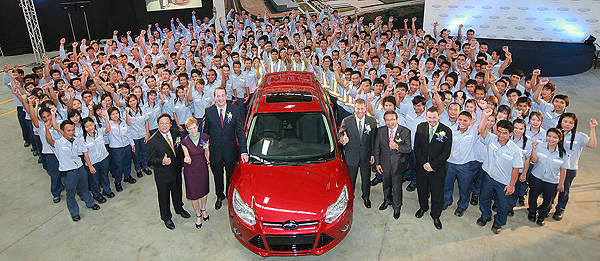 There's no stopping Ford's expansion in Thailand as the American carmaker recently opened its 200,000sqm, $450-million state-of-the-art passenger vehicle manufacturing plant in the Rayong province.
"The opening of this new, world-class facility is the latest example in our aggressive growth plan for this region, which represents Ford's largest industrial expansion in half a century," said Joe Hinrichs, president of Ford Asia Pacific and Africa. "The world-class One Ford vehicles produced here will be part of our plan to launch 50 new vehicles and powertrains in Asia Pacific and Africa by mid-decade."
Known as Ford Thailand Manufacturing, the facility is the carmaker's second plant in Thailand. It is also one of eight new manufacturing facilities across the Asia Pacific and Africa region that Ford will open by 2015 as part of its aggressive global expansion.
With an initial production capacity of 150,000 vehicles, the Ford Thailand Manufacturing plant will increase Ford's annual production capacity in the country to 445,000 units, making it one of the largest producers and exporters of vehicles in the country.
ADVERTISEMENT - CONTINUE READING BELOW ↓
Since 2007, Ford has been Thailand's largest automotive investor, putting in more than $1.5 billion to continually expand its local operations. Overall, Ford is the country's second-largest automotive investor with cumulative investments totaling more than $2.5 billion.
ADVERTISEMENT - CONTINUE READING BELOW ↓
Recommended Videos
"No other automotive manufacturer has invested more in Thailand over the last five years than Ford Motor Company," said Ford ASEAN president Peter Fleet. "We are clearly here for the long run."
Shortly after the plant's opening, we managed to talk to Anika Salceda-Wycoco, Ford Group Philippines' assistant vice president for communications, who was present at the opening ceremony. She said that the production of the all-new Focus will commence at the facility by June.
So, does this bit of news make you even more excited for the arrival of the new Focus, or are you saddened by the fact that Thailand has well and truly left us behind when it comes to the auto industry's hierarchy of car markets in Asia?
ADVERTISEMENT - CONTINUE READING BELOW ↓