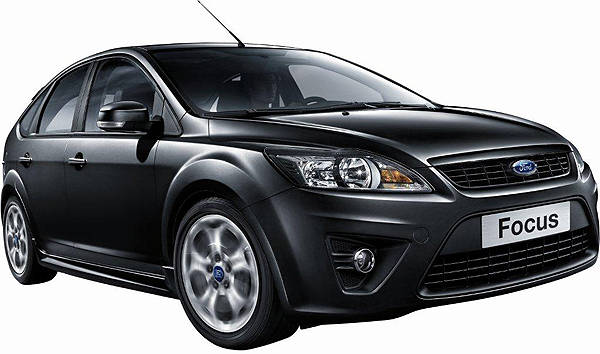 With the prices of petroleum products nearing the P60-mark, it has become imperative to save on fuel and Ford Group Philippines is keen to capitalize on consumers' search for the perfect car by bringing down the price of its Focus TDCi.
"Since its introduction in 2008, the Focus TDCi turbo-diesel has been getting better and better--the 2011 Focus Diesel boasts of smart, premium features normally available in luxury cars and of course, its super slick 6-speed dual clutch automatic transmission. And now, the Focus TDCi is offered at an even more compelling new price point," said Steven Tan, Ford Group Philippines' vice president for sales and marketing.
Ford is offering the 2011 version of the fuel-efficient Ford Focus TDCi at just P1.099 million with a low down payment of P129,000 via financing through East West Bank.
On top of the lower pricepoint, the biggest selling point of the Focus TDCi is its 2.0-liter common-rail direct injection turbo diesel engine that's mated to a six-speed dual clutch PowerShift transmission. According to Ford, its PowerShift technology combines the fuel efficiency and dynamics of a manual gearbox with the driving ease and comfort of a premium automatic transmission.
If there are any doubts as to the Focus TDCi's fuel efficiency, Ford Philippines is glad to point out that this specific variant registered a 21-kilometer-per-liter figure in the 2008 Department of Energy Fuel Economy Run while in the American carmaker's own 2010 Ford Focus Coast to Coast Challenge, the winning Focus TDCi set a new fuel economy record by running a distance of 1,432.3 kilometers on a single tank of fuel.
Continue reading below ↓
Recommended Videos
Despite the Focus TDCi's impressive fuel efficiency, its pulling power has not been compromised as its peak torque is at 340Nm of torque, making it not only powerful but also agile, responsive and with plenty of pulling power even at low engine speeds.
"There is no doubt that the Focus is one of the nameplates that truly embraces Ford's thrust to allow customers to appreciate the transformation in our brand and allow them to Feel the Difference. In the local market, there is no better time for us to translate this idea into real customer benefits and offerings that make a difference in the way our customers see, experience and feel the Ford brand," added Tan.