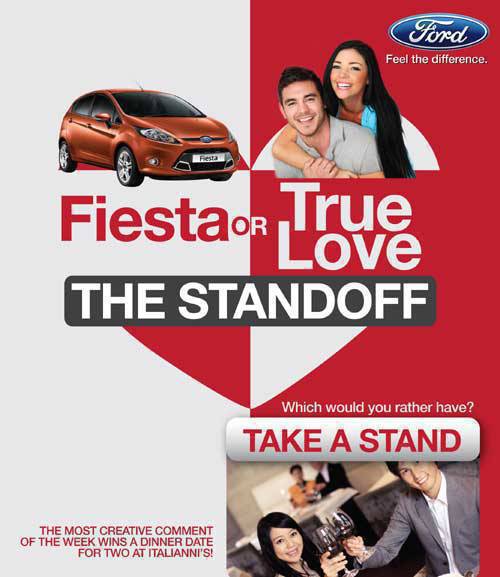 Valentine's Day may be over but Ford Group Philippines continues to spread love with a promo called The Standoff: Fiesta or True Love? on Facebook.
Facebook users who "like" the Ford Fiesta in the Philippines page have the chance to win an all-expense paid dinner for two at Italianni's Restaurant by answering this simple question: Which would you rather have, The Ford Fiesta or True Love? Each week until March 11, Ford will choose the two most creative and imaginative answers, and their senders get to enjoy the Italianni's treat.
"People have always joked about which they love more--their significant others or their cars. Well, this is the chance to prove it," said Steven Tan, Ford Group Philippines vice president for marketing and sales. "By giving away lovely dinners-for-two, The Standoff is meant to be an online contest that allows fans to celebrate romance through their love for their Fiestas."
Ford challenges Fiesta fans to post the "wackiest, most clever or romantically-inclined comment" on the Ford Fiesta in the Philippines page.
Ready with your answer? Click here to join.
Continue reading below ↓
Recommended Videos