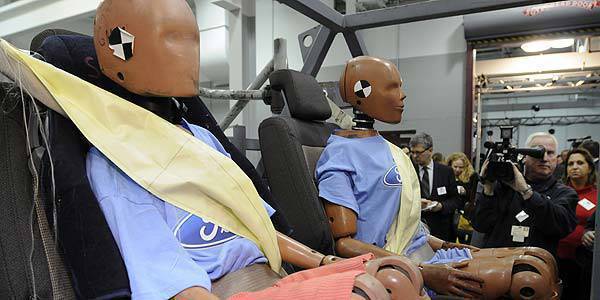 In-car safety has gone a long way. Seatbelts have been around for 50 years and now the airbag has become a standard feature in many cars. Ford has decided to marry the technologies by coming up with an automobile industry first: the inflatable seatbelts.
Inflatable seatbelts are designed to deploy over a passenger's torso and shoulder within 40 milliseconds of a crash, Ford said. It is meant to reduce head, neck and chest injuries for rear seat passengers.
Ford's inflatable seatbelts are scheduled to be introduced next year with the next-generation Ford Explorer. It will initially be available in the North American market before it gets distributed worldwide and across Ford models.
"Ford's rear inflatable seat belt technology will enhance safety for rear-seat passengers of all ages, especially for young children who are more vulnerable in crashes," said Sue Cischke, Ford group vice president for sustainability, environmental and safety engineering. "This is another unique family technology that builds on our safety leadership, including the most top safety ratings of any automaker."
ADVERTISEMENT - CONTINUE READING BELOW ↓
ADVERTISEMENT - CONTINUE READING BELOW ↓
Recommended Videos