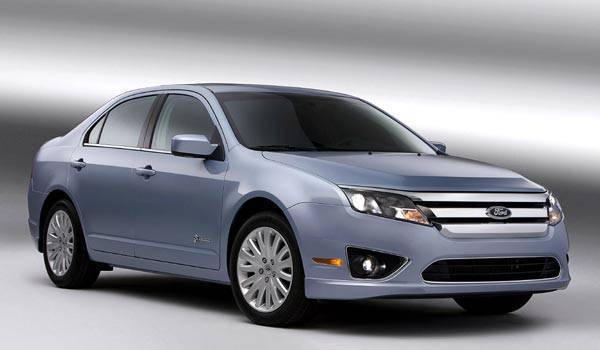 Talk about a complete turnaround. Capping a year in which it saw its total US market share grow by a full percentage point from 14 percent to 15 percent, Ford scores another feather for its American cap: The Fusion Hybrid has been named the 2010 North American Car of the Year by American and Canadian motoring journalists, while the Transit Connect has been voted Truck of the Year.
The double victory marks only the third time in the awards' 17-year history in which a single carmaker won both Car and Truck of the Year honors in the same year. Honda accomplished the feat in 2006 with the Civic and the Ridgeline, and General Motors matched the achievement a year later with the Saturn Aura and the Chevrolet Silverado.
Continue reading below ↓
Recommended Videos
The North American Car and Truck of the Year are annually selected by 50 automotive writers from the US and Canada, with the winners traditionally announced on the first press day of the North American International Auto Show in Detroit.
In winning the awards, the Fusion Hybrid (241 points) bested car finalists Volkswagen Golf (146) and Buick LaCrosse (103), while the Transit Connect (213) beat truck finalists Chevrolet Equinox (183) and Subaru Outback (94).
The judges appraise the nominees on the basis of value for money, performance, technological innovation, safety and even driving fun. Only brand-new or substantially improved vehicles qualify for the awards.
The other nominees for the 2010 North American Car of the Year award were the BMW 335d, the Cadillac CTS Sport Wagon, the Chevrolet Camaro, the regular-engine Ford Fusion, the Ford Taurus, the Honda Insight, the Mazda 3, the Mercedes-Benz E-Class, the Porsche Panamera, the Subaru Legacy, the Suzuki Kizashi and the Toyota Prius.
The other nominees for the 2010 North American Truck of the Year award, meanwhile, were the Acura ZDX, the Audi Q5, the Cadillac SRX, the Honda Accord Crosstour, the Land Rover LR4, the Lincoln MKT and the Volvo XC60.