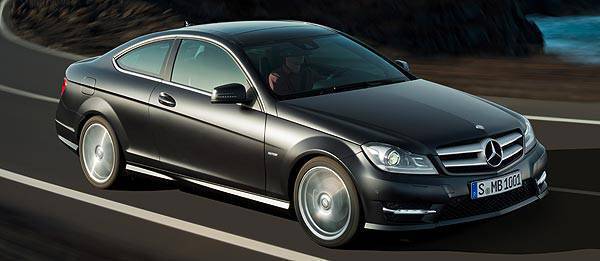 Mercedes-Benz is bringing back the coupe to the C-Class just as it is celebrating its 125th year of corporate history.
Set to debut at the Geneva International Motor Show in March, the C-Class Coupe "combines pure fun at the wheel with exemplary efficiency" and was designed specifically to target those aged 35 to 45 for whom "professional success, love of life and a strong sense of responsibility are all important."
The all-new C-Class Coupe bears design cues that are true to its body style like the short front overhang, long bonnet, steeply raked windscreen and long, stretched out roof that tapers to a sporty short tail end.
Up front, though the C-Class Coupe shares the same styling cues as the rest of the C-Class models, it does get its own twist like the double-louver style on the radiator grille and the two chrome louvers that extend on both sides of the central star, which taper at the edges to create a sporty-arrow shaped horizontal sweep.
Inside, the C-Class Coupe gets the same treatment, which means it gets the same interior as the other C-Class models but with a few sporty changes like the three-spoke steering wheel with its chromed central spoke like that in the new CLS and the finely detailed and galvanized touch surfaces controls.
Continue reading below ↓
Recommended Videos
The C-Class Coupe will be offered with five different engines: three petrol-fueled ones and two diesel powerplants that are all equipped with direct injection. Like the recently-introduced refreshed C-Class, the Coupe will also have the ECO start/stop function as standard, and the variants are all classified as BlueEFFICIENCY units--the Mercedes-Benz-speak for fuel-efficient and environment-friendly engines.
Of the five variants available, the C220 CDI BlueEFFICIENCY with the six-speed manual transmission is the most economical as it has an average diesel consumption of 4.4 liters for every 100 kilometer-distance traveled. This corresponds to carbon dioxide emissions of only 117 grams.
As for the range-topping C 350 BlueEFFICIENCY and its 7G-TRONIC PLUS seven-speed automatic transmission, its V6 engine has an output of 306hp and 370Nm of torque while consuming an average of just 6.8 liters for every 100 kilometers. The other two petrol-fed, four-cylinder models are equipped with turbochargers to offer high performance as well as exemplary fuel economy.
"By extending the C-Class portfolio, we are consciously targeting new customers," said Joachim Schmidt, head of sales and marketing at Mercedes-Benz Cars. "The new model is youthful, stylish and dynamic. What we are offering is an exceptionally sporty way to enter the world of the Mercedes-Benz coupé."
[gallery]780[gallery]