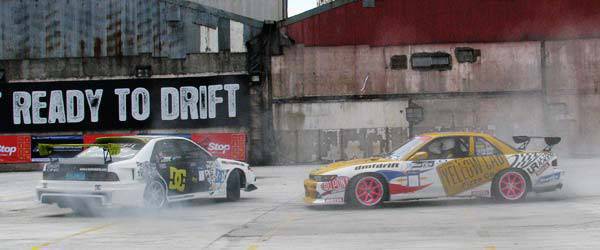 Sideways drifting action heads north as the third round of the Glade Sport Lateral Drift 2010 Pro-Am Series takes on the Clark International Speedway this weekend.
At the new venue, amateur and professional drifters will be competing in different sections of the track. The amateurs will go against the track's typical orientation by going to opposite way and tackling the section near Clark International Speedway's drag strip starting line. The pros will follow the track's orientation and take the first few corners of the circuit's short track.
"This is perhaps the most ambitious track layout we've ever prepared," Lateral Drift Productions' marketing manager Charlie Cruz said. "This year's vision is to put a whole new challenge to all drifters and aim to leveling up to Formula D International standards."
Continue reading below ↓
Recommended Videos
Norman Agoho will be defending his lead in the amateur series against second-placer Ryan Agoncillo and third-ranked Mark Rosca. For the professional series, the country's top drifter Alex Perez will try to protect his slim two-point lead over Pacho Blanco and Raymond Ronquillo.
Looking to give Perez some trouble this weekend is guest drifter Chris Litonjua from the United States. Litonjua has been competing in the D1 Underground amateur series but due to his experience, will be competing in the professional category.
Qualifying for the third round will take place on May 22 while the finals will be on May 23.