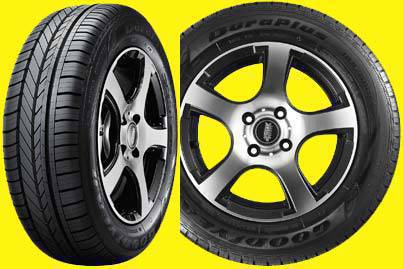 Goodyear Tire and Rubber Co. has created a product that aims to help consumers in their money-stretching strategies amid tough economic times.
Goodyear DuraPlus, built and tested to run for as much as 100,000 kilometers, was introduced at an Asian launch in Bangkok, Thailand last week.
DuraPlus is intended for Asia's passenger car market, which is growing at an average of nine percent annually according to Goodyear Asean managing director Richard Fleming.
ADVERTISEMENT - CONTINUE READING BELOW ↓
Goodyear's newest product is a result of over a year of research and development which involved more than 100 engineers, chemical experts, physicists, and tire evaluation specialists.
Jenner Powell, commercialization director of Goodyear's consumer tires in Asia Pacific, said DuraPlus is equipped with the TredLife Technology for a longer life on the road. This allows for optimized rubber contact on the road.
"It also features an advanced carbon-based tread compound for more resistance to frictional wear," Powell said.
While DuraPlus was designed in Luxembourg, Goodyear assured the passenger tire is suited for the road conditions in Asia after a series of open-road tests in Thailand. It also underwent testing in Goodyear's company tracks in Mireval, France.
Goodyear said tests proved DuraPlus can last up to 80 percent longer than competition.

"In today's challenging economy, Asian consumers are looking for exceptional value and our extensive research indicates that drivers of smaller passenger vehicles are looking to get longer tread life and more mileage out of their tires. With Goodyear DuraPlus, consumers are armed with the right tire to make each mile and each dollar count," said Dan Smytka, Goodyear vice president for consumer tires in the Asia Pacific.
ADVERTISEMENT - CONTINUE READING BELOW ↓
Recommended Videos
DuraPlus is already available select Goodyear stores in the Philippines with prices ranging from P3,200 to P5,500, depending on the size.
While it has taken on the lead in innovating a longer-lasting product, Goodyear is well aware that competition will also come up with similar products to compete with the DuraPlus.
"Others will definitely follow," Fleming said. "But everyone remembers the first."