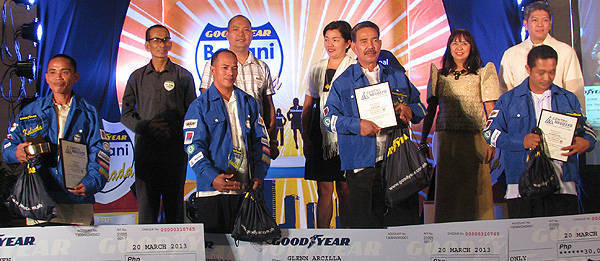 Four public-utility vehicle drivers are the regional recipients of Goodyear Philippines' 2012 Bayani Ng Kalsada awards, with one of them being named national champion.
Luzon winner and taxi driver Glen Arcilla witnessed two motorcycle-riding gunmen shoot a married couple in an SUV before speeding away. Hearing the cries of help from the victims, Arcilla assisted and took them to the hospital. Though the husband was declared dead on arrival, the wife survived the shooting, thanks to Arcilla's help.
NCR awardee and jeepney driver Rolando Bocaya Carullo was ferrying passengers when he spotted a boy gasping for breath by the roadside and being assisted by his parents. Carullo then politely asked his passengers to alight from the jeepney and to give way for the boy and his parents. He then brought them to a hospital without asking for payment.
Visayas victor and tricycle driver Christopher Montel Fonclara witnessed an accident involving a truck and a tricycle that resulted in four injured victims. Fonclara rushed what he thought to be the most critically injured victim to the hospital and then went back to assist the rest. Thanks to Fonclara's quick action, two of the four victims survived. Fonclara was also named the national Bayani Ng Kalsada awardee.
ADVERTISEMENT - CONTINUE READING BELOW ↓
ADVERTISEMENT - CONTINUE READING BELOW ↓
Recommended Videos
Mindanao winner and jeepney driver Roel Limen was on the road when he noticed an old woman walking alone by the roadside and who looked like she was having a heart attack. With his passengers still in the jeepney, Limen drove the old woman to the hospital. After Limen dropped off his passengers, he returned to the hospital to check on the old lady, and when she was released, he drove her home without asking for payment.
Goodyear also honored Dr. Lorraine Marie Badoy with a special award. Dr. Badoy was in a chauffeur-driven car when she spotted a well-dressed adult male who was hunched over and vomiting by the side of the road. Recognizing it as a sign of a heart attack, she immediately had her driver rush him to the hospital in the victim's car while she followed them in her car. Though the victim was given immediate attention at the hospital's emergency room, he didn't survive the heart attack.
ADVERTISEMENT - CONTINUE READING BELOW ↓
The regional winners of the 2012 Goodyear Bayani Ng Kalsada each received a cash prize of P30,000, while the national winner received P50,000.
We tip our hats off to these motoring heroes. May their tribes increase.