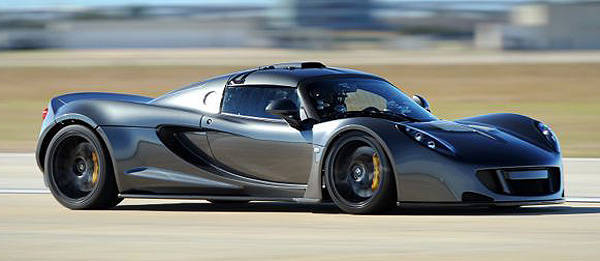 It looks like the Koenigsegg Agera R is no longer the fastest car in the world--at least when it comes to a couple of production-car speed records--after the Hennessey Venom GT trumped the Swedish hypercar's 0-to-200mph (320kph) and 0-to-300kph records.
Using the runway of the Ellington Airport in Houston, Texas, John Kiewicz piloted the Venom GT from a standing start to 300kph in 13.63 seconds before reaching 200mph in 14.51 seconds, topping the Koenigsegg Agera R's times of 14.53 seconds and 17.68 seconds, respectively.
Not bad for a small-scale manufacturer like Hennessey Performance. Anyway, check out the videos of the record-setting runs below.
Photo from VenomGT.com
If you're viewing this on a mobile device and can't see the video, please click here.
<>
Recommended Videos