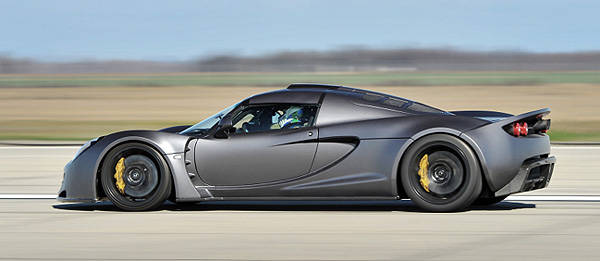 If the Bugatti Veyron Super Sport is no longer the fastest car in the world today after Guinness World Records withdrew the title from the epic car, then which one is? Well, Hennessey Performance is staking its claim on the record after announcing that a full-production Venom GT ran up to 427.6kph last February 9.
"While a Veyron Super Sport did run 267.8mph (431kph), Bugatti speed-limits its production vehicles to 258mph (415kph)," said Hennesy Performance founder and president John Hennessey. "Thus, at 265.7mph (427.6kph), the Venom GT is the fastest production car available to the public."
According to the small-scale American performance carmaker, the acceleration runs were conducted at the United States Naval Air Station Lemoore in Central California using the seventh production Venom GT. The top-speed run was then accomplished over a distance of two miles (3.2km), with all the tests being validated by two VBox 3i GPS-based data-logging systems. VBox officials were also on hand during the runs "to certify the numbers."
ADVERTISEMENT - CONTINUE READING BELOW ↓
Hennessey even claims that the Venom GT is capable of going faster than its record-breaking speed as the air base's 2.9-mile runway was too short for the car to realize its true top speed. By comparison, the Veyron Super Sport's top speed run was conducted over a 5.6-mile straightaway that is part of the Volkswagen Group's Ehra-Lessien test track in Germany.
"Afforded the same distance to accelerate, the Venom GT would exceed 275mph (440kph)," Hennessey added.
If officially certified, this is the latest in the Venom GT's string of record-breaking runs after setting the 0-to-300kph and 0-to-200mph (320kph) records of 13.63 seconds and 14.51 seconds, respectively, in January.
Check out what going over 400kph looks like inside the Venom GT in the video below.
If you're viewing this on a mobile device and can't see the video, please click here.
ADVERTISEMENT - CONTINUE READING BELOW ↓
Recommended Videos