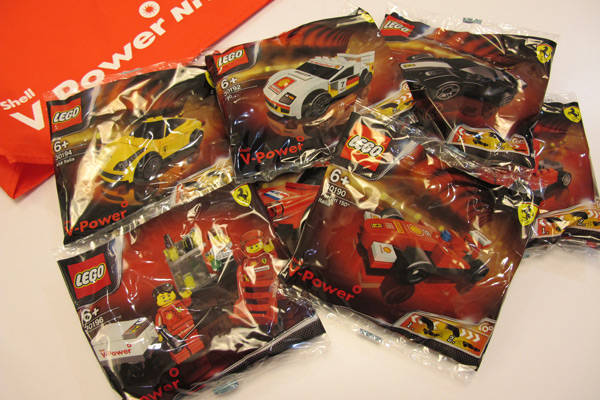 Last weekend, we asked you to guess the exact time it took our consumer editor, Botchi Santos, to assemble a Lego Ferrari 458 Italia that's part of the six-car set now available through Shell Philippines' ongoing promo. We showed you a video of Botchi putting together the miniature Lego Ferrari model so you could get a clue.
The correct answer is 2 minutes and 44 seconds.
The bad news is that nobody got the correct answer. The good news is that six people answered either 2:43 or 2:45, both just a mere second off the exact time. As promised, we would declare as winners those who sent the nearest guesses in the event nobody got the correct answer. Unfortunately, however, we only have three (3) sets of Shell Lego Ferrari toy cars to be given away. And as we stated in our contest rules, we would award the prizes to the first three contestants to post their answer.
Those three lucky contestants are:
1. Larence Dionisio - 2:45
2. Peterson Valderrama - 2:45
3. Juan Yu - 2:43
In addition to the six Lego Ferrari cars (Ferrari F150° F1 car, Scuderia Ferrari truck, Ferrari 250 GT Berlinetta SWB, Ferrari F40, Ferrari FXX, and Ferrari 458 Italia), the pack also includes Shell Lego Ferrari miniature personnel.
Continue reading below ↓
Recommended Videos
Congratulations, guys! And thank you to everyone who joined the contest. Till the next one.