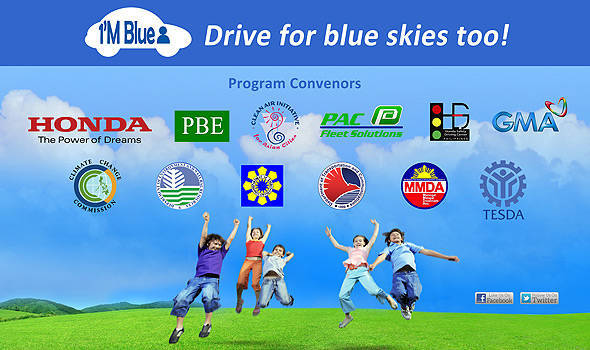 Honda Cars Philippines (HCPI) hopes to teach over one million Filipino motorists fuel-efficient driving techniques that will not only clean up our air but also promote road safety with its newly launched "1'M Blue" campaign.
Pronounced as "I'm Blue," the campaign is a multi-sectoral movement that goes beyond simply tapping the government sector.
"We believe the government sector has been saturated with environmental campaigns," said HCPI public relations chief Mitch Malto. "That's why we're now tapping other sectors, like the public, non-government organizations, and the academe."
The transport sector is reportedly responsible for 23 percent of global energy-related carbon dioxide emissions while consuming nearly 60 percent of the world's petroleum supply--of which 80 percent supposedly goes to road transport. Honda's vehicle life cycle assessment also revealed that a vehicle accounts for 83 percent of carbon dioxide emissions in its lifetime and that for every liter of gasoline burned, about 2.4kg of this harmful emission is released into the atmosphere.
Beyond these alarming figures, air pollution from road-unworthy vehicles continues to take its toll on our health with particulate matter from vehicle exhaust emissions having been shown to aggravate asthma and cause respiratory illness, lung cancer, and even premature death.
In response to these findings, HCPI's "1'M Blue" campaign presents simple yet ambitious solutions to these environmental problems by teaching one million Filipino motorists to be more fuel-efficient and safer drivers.
Continue reading below ↓
Recommended Videos
Besides showing instructional videos explaining simple eco-safe driving techniques at the offices of the Land Transportation Office, partner cinemas, on TV via GMA, and on social networks, articles explaining the driving techniques, climate change and other environmental issues--and how these can be solved through everyone's concerted efforts--will also be made available to the public.
Professional 1'M Blue driving instructors will also conduct both public and private eco-safe driving seminars to be facilitated by the Philippine Auto Club Fleet Solutions and the Honda Safety Driving Center with hands-on training all over the country. As a matter of fact, for the upcoming fourth staging of the Philippine International Motor Show this August, HCPI plans to hold a handful of these eco-safe driving seminars at the venue (World Trade Center in Pasay City).
The campaign can also work for companies by helping them do an air pollutant and greenhouse gas emissions assessment of their fleets, with the ultimate goal of improving their overall fuel efficiency.
"In 2010, we embarked on the Clean Fleet Management Program," said HCPI president Tatsuya Natsume. "With our partners, we were able to reach about 400 personnel from government offices and over 200 individuals from private companies. Our team has now gone bigger and better with 12 organizations from the private sector, government, civil society and media for the 1'M Blue eco-safe driving program. I am sincerely proud of Honda's efforts to ensure blue skies for our children, but I also want to tell you that we need you to be on board--we need you to help us spread the word about eco-safe driving."
If you're viewing this on a mobile device and can't see the video, please click here.