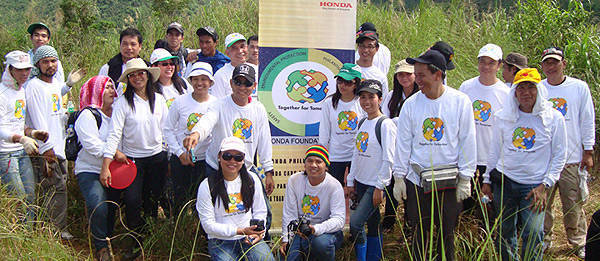 The Honda group of companies composed of Honda Cars Philippines Inc. (HCPI), Honda Philippines Inc. (HPI), Honda Parts and Manufacturing Corp. (HPMC), and Honda Trading Philippines (HTP) under its corporate social responsibility arm, the Honda Foundation Inc. (HFI), recently celebrated the third year of its reforestation program in partnership with Haribon Foundation to support the "Road to 2020" project.
Over 275 volunteers from HFI, Honda suppliers, members of the motoring media, Honda riders club, PNP and LGU/CENRO traveled to Tanauan in Real, Quezon, to plant 7,500 tree seedlings, and to help contain and lessen the flood surge from Quezon Province's two major tributaries, the Kanan and Kaliwa Rivers, that discharge water to Laguna Lake.
For the reforestation program, the Honda group of companies has pledged to rehabilitate 20 hectares of denuded land with 50,000 trees in a span of 10 years. To date, the total land area covered is nine hectares with 15,000 trees planted.
The "Road to 2020" is an environmental conservation movement that aims to restore one million hectares of Philippine rainforests using native tree species by the year 2020, by raising awareness on the critical situation and deforestation of the country's watersheds.
In line with Honda's "Blue Skies for Our Children" program, the Japanese carmaker follows the global direction to minimize the environmental footprint from products and business activities to provide "good products to customers with speed, affordability, and low carbon dioxide emissions."
Continue reading below ↓
Recommended Videos
We wish all car manufacturers were as green-minded as Honda.