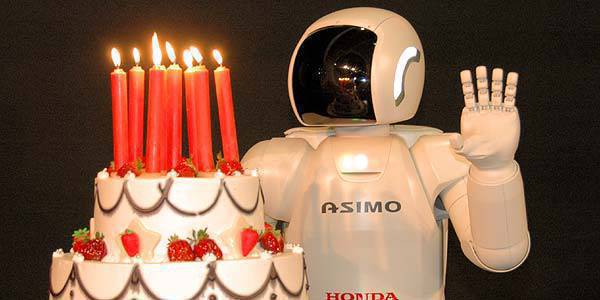 If ASIMO were a real kid, he'd be in fourth grade by now. Honda's humanoid robot, said to be the most advance of its kind, recently celebrated its 10th birthday.
ASIMO was developed by Honda as part of its research and development program for robotics and human mobility.
"After 10 years of innovation, ASIMO can now run and walk on uneven slopes and surfaces, climb stairs, and reach for and grasp objects," Honda said in a statement. "ASIMO can also comprehend and respond to simple voice commands, recognise faces and even avoid moving obstacles as it runs."
Honda's ultimate goal in creating the humanoid robot, of course, is to help people in performing day-to-day activities and in doing work that are too dangerous for human beings. So don't be surprised if future firefighters or toxic-spill cleaners are robots bearing the Honda brand.
"Honda is now focusing its research on the development of ASIMO's intelligence, as well as exploring the scope for interaction between humans and humanoid robots," the carmaker said.
As a gift for his 10th birthday, Honda launched a website dedicated to ASIMO. See how robots celebrate birthdays when you visit world.honda.com/ASIMO. Cool, huh?
Continue reading below ↓
Recommended Videos