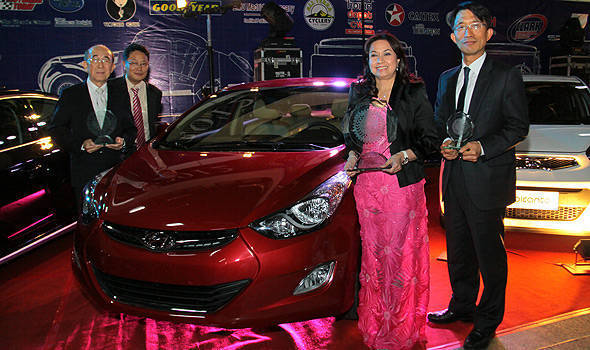 After going through 36 cars and 11 finalists over a one-month period, the Car Awards Group (CAGI) has finally revealed that the new Hyundai Elantra is the 2011 - 2012 Car of the Year Philippines (COTY-P).
The Elantra received high marks in the qualitative tests where scores are based on aesthetics, comfort and drivability. It also performed well in technical tests that evaluated the acceleration, braking and handling characteristicswhile offering great value for money.
According to CAGI, organizer of the Car of the Year search in the Philippines, the Hyundai Elantra's victory proves that the title is not for the fastest, cheapest, or most popular car in the market. Instead, it goes to "the car that best caters to the consumers."
"The COTY-P award is well-deserved by the Hyundai Elantra and makes this the fourth COTY award received worldwide by the Elantra. The results are also a validation that CAGI's COTY testing procedures are internationally up to par," said CAGI president and Top Gear Philippines' technical editor Ferman Lao. The Elantra also claimed the Car of the Year award in Canada, North America and South Africa.
Aside from the prestigious Car of the Year title, CAGI also recognized category and special award winners.
2011 - 2012 Car of the Year Category Winners
Continue reading below ↓
Recommended Videos
Basic Subcompact Car - Kia Picanto 1.0 M/T
Subcompact Car - Suzuki Swift 1.4 A/T
Compact Car - Hyundai Elantra 1.8 GLS A/T
Crossover - Kia Sportage 2.0
Luxury Mid sized Car - Volvo S60 T4
Luxury Compact Crossover - MINI Countryman S
Midsize SUV 4x2 - Mitsubishi Montero Sport 4x2 M/T
Midsize SUV 4x4 - Mitsubishi Montero Sport GTV 4x4 A/T
Luxury SUV - Ford Explorer V6 AWD
Pickup 4x2 - Mitsubishi Strada 4x2 A/T
Pickup 4x4 - Mitsubishi Strada 4x4 A/T
It looks like TopGear.com.ph readers really know their thing. Here's the result of our poll at the time the Hyundai Elantra was declared Philippine Car of the Year.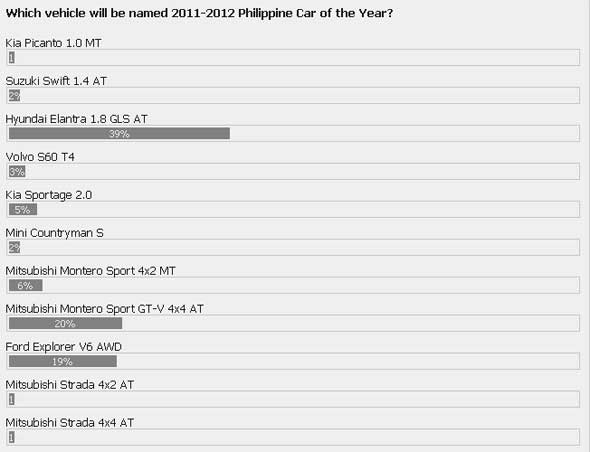 2011 - 2012 Car of the Year Special Awards
Standard Insurance Worry-Free Award - Chevrolet Cruze Diesel
BOSCH Technical Innovation Award - My Ford Touch Sync (Ford Explorer)
AAP Road Safety Award - Volvo S60
Papa J's Best Value Award - Kia Picanto 1.0 M/T
Caltex with Techron Enjoy the Journey Award - Nissan Teana 350XV
Cartrige World iSwap iCare Award - Suzuki Swift 1.4 A/T
All Terra All Activity Vehicle Award - Toyota Hilux 3.0G 4x4
Victoria Court Most Spacious Award - Foton MPX 2.8L CRDi Long Wheelbase
Red Rock Travel Most Affordable Car Award - Lifan LF320 M/T
Speedlab Tuner's Choice Award - Hyundai Elantra 1.6 M/T
Clark International Speedway Motorsports Award - Tuason Racing School and Ford Group Philippines (TRS Cup powered by the Ford Fiesta)