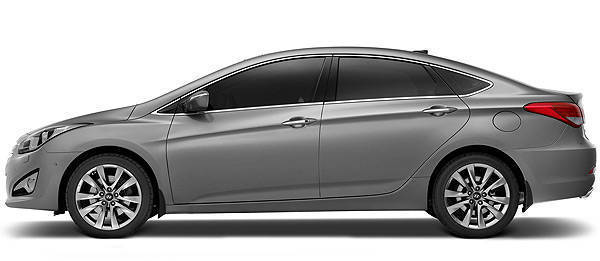 What you're looking at isn't a modified version of the Hyundai Elantra but the i40 midsize sedan, which is based on the Sonata's platform and will go on sale in Europe in January 2012.
Also available as a station wagon to be known as the i40 Tourer, the European-market only i40 "will offer customers a high level of standard specification coupled with competitive cost of ownership."
"The stylish saloon version shares the same qualities found in the i40 Tourer--offering outstanding levels of fuel-efficiency, comfort, quality, and a high level of standard equipment all at an accessible price," said Tony Whitehorn, managing director of Hyundai Motor UK. "It will broaden the appeal of the i40 range to buyers in the D-segment by offering a unique, value for money, customer proposition."
Both the i40 Saloon and the i40 Tourer will be available in three trim levels and offered with either a 1.6-liter 133hp petrol or two different 1.7-liter diesel powerplants that put out 115hp and 136hp, respectively.
Standard features that set the i40 apart from other competitor offerings are its 16-inch alloy wheels, Bluetooth connectivity with voice recognition, leather steering wheel with audio controls, electric heated door mirrors with integrated LED indicators, electric front and rear windows and electric parking brake with automatic hold function. Other features like touch screen satellite navigation with rear view camera, front and rear parking sensors, cruise control, dual zone climate control, leather upholstery, panoramic sunroof, keyless entry, supervision instrument cluster with LCD color display, lane departure warning, smart parking assist, heated leather steering wheel and ventilated front seats are also available as standard depending on the particular trim level.
"The i40 Saloon represents the next-step in the launch of the i40 range to the UK market. It is a vehicle that has been designed and engineered specifically for Europe, ensuring its relevance in the market place," Whitehorn added.
Do you think Hyundai has gone overboard with its 'fluidic scuplture' design language, styling the i40 to look like a supersized Elantra? Do you think the i40 is what the Sonata should have looked like from the start or vice-versa? You know what to do with the comment box below.