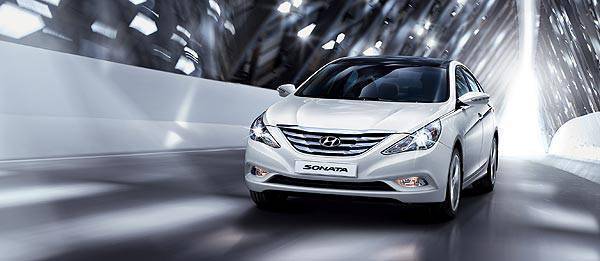 Hyundai is about to make the Sonata more drool-worthy than it already is with plans of offering the midsize sedan in turbocharged version.
To be called the Sonata 2.0T, the car features Hyundai's first-ever four-cylinder turbocharged gasoline direct-injection engine. Thanks to its twin-scroll turbochargers, which minimize turbocharger lag while maximizing combustion efficiency and power output, the Sonata 2.0T's engine pushes out 274hp and 365Nm of torque, making it more powerful and more fuel-efficient than its V6-powered competitors.
The Sonata 2.0T's engine also plays an integral part in Hyundai's Blue Drive fuel efficiency strategy.
"When we first showed the Sonata Turbo earlier this year, we promised more horsepower than our V6 competitors, with great four-cylinder fuel economy, all for under $25,000," said John Krafcik, president and chief executive of Hyundai Motor America. "The new Sonata lineup demonstrates what Hyundai's Blue Drive approach to fuel economy leadership is all about--game-changing products with industry-leading fuel efficiency that aren't compromises or low-volume 'special-fuel-economy' marketing ploys."
Now, before you get all too excited about this baby, let us ruin your day just a bit by revealing that a reliable source from Hyundai Asia Resources, Inc., official distributor of Hyundai vehicles in the Philippines, said the company is not planning to bring the turbocharged Sonata anytime soon. But perhaps if there's enough clamor for it…
Continue reading below ↓
Recommended Videos