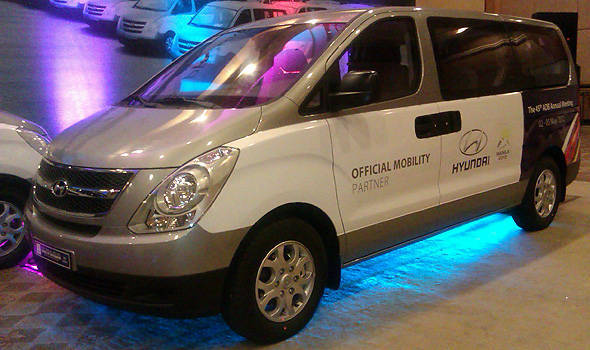 Hyundai Asia Resources (HARI), the exclusive distributor of Hyundai vehicles in the Philippines, has been tapped by the Department of Finance to be the official mobility partner of the upcoming 45th ADB Annual Governors' Meeting. (In case you're wondering, BMW is the "premium mobility" sponsor of the event.)
"It is an honor to support this prestigious conference, even more because its theme revolves around good governance and social economic growth, which is very much aligned with Hyundai's practice and advocacy for good corporate leadership," said HARI president and chief executive Ma. Fe Perez-Agudo. "HARI and ADB's lead Philippine agency, the Department of Finance, have and continue to engage in a thoughtful and meaningful partnership that enables the advancement of Philippine investment and development goals anchored on shared sustainable governance principles. We support our administration and the ADB in promoting and strengthening the pillars of public and corporate governance to bring about all-inclusive growth and development for the Philippines and Asia."
The ADB Annual Governors' Meeting will be held at the Philippine International Convention Center and the SMX Convention Center from May 2 to 5. The event will see HARI fielding 50 units of its 10-seater Grand Starex to transport participants, including the staff of VIPs from ADB's 67 member countries; government officials; business leaders; members of multilateral organizations, civil society and academe; and the media.
Continue reading below ↓
Recommended Videos
(The 90 units of the BMW 520d that we reported here last week will carry the VIPs from ADB's member countries.)
Though the event is scheduled for next week, the Grand Starex units will already be on duty by April 27 as attendees of the event start flying in early to prepare for the four-day convention.
"The ADB and the Department of Finance chose the Grand Starex because they needed a vehicle that could not only transport the attendees in comfort, but also carry their baggage with ease," added Paeng Batuigas of HARI's marketing services department.