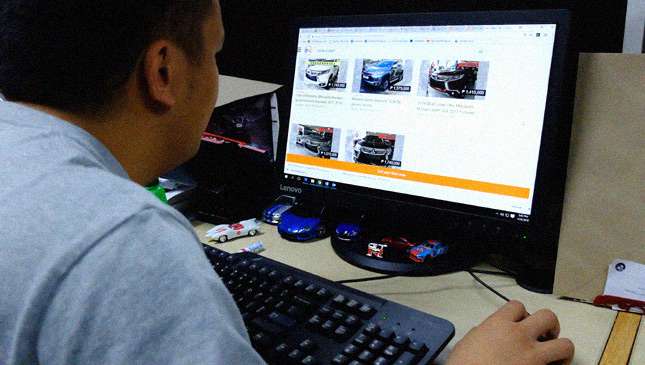 Last year, the local auto industry was clouded by uncertainty and intrigue--but don't even think for a minute that this deterred shoppers from buying new cars. In fact, car shoppers were spurred on by the higher prices in 2018, and manufacturers stood to gain from the frenzy leading up to it.
Consumers weren't dissuaded from checking out the secondhand car market, either. According to data provided by OLX, its website featured more than 500,000 listings for vehicles in 2017--around half of which was for pre-owned cars. The company also claimed that more congested roads have influenced what models Filipinos are searching for, opting for smaller engines and more compact makes like the Toyota Vios and Honda City.
Among the larger models people searched for last year are the Toyota Fortuner and Innova, and the Mitsubishi Montero Sport. This is proof that Pinoys are still as enamored as ever of the midsize SUV segment, too. The most searched car on OLX last year? It's the Honda Civic, which retains its 2016 crown. OLX says this is because of the brand's high resale value and the car's sporty reputation.
ADVERTISEMENT - CONTINUE READING BELOW ↓
So, have you noticed anything about the vehicles mentioned above? They're all Japanese, showing that carmakers from the Land of the Rising Sun still enjoy a high level of trust from a wide variety of Filipino consumers. In fact, nine out of the top 10 cars searched on OLX in 2017 are by marques from Japan. Have a look at the full list in the infographic below.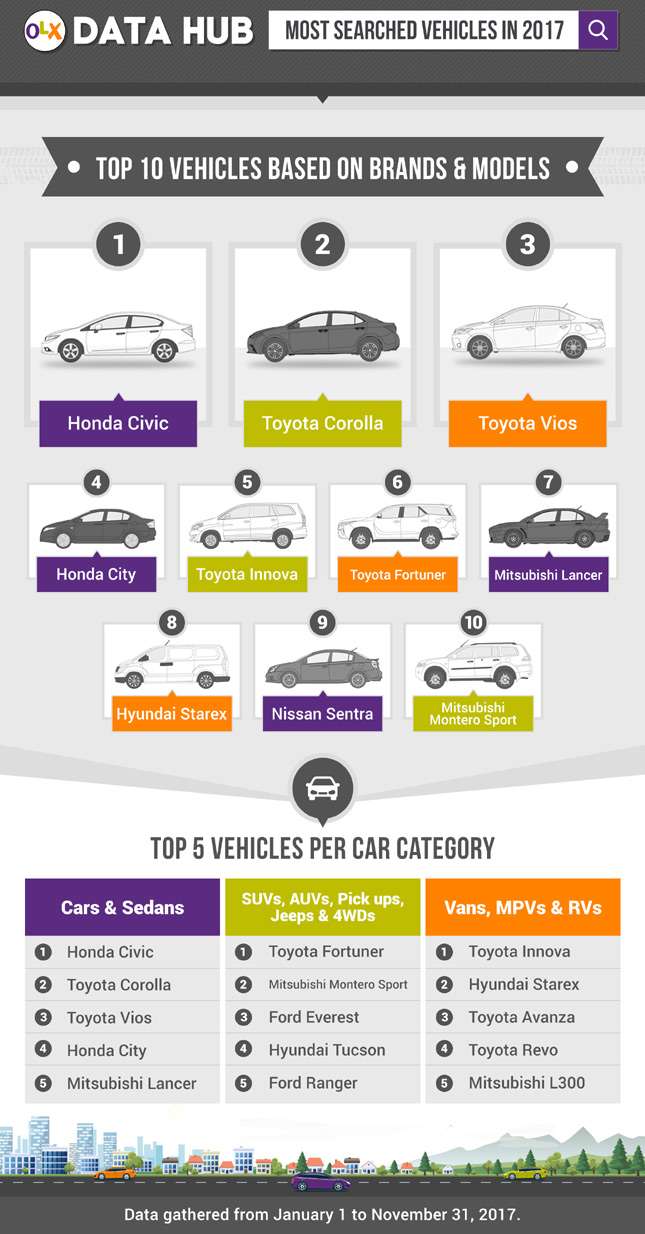 "Practicality and affordability will always influence car buyers to look at pre-loved rides as an option," says OLX general manager Raffy Montemayor. "It's important to us that we have quality listings so that when people search on OLX, they are able to close a deal and be able to own a ride that fulfills their needs."
Will the onset of higher taxes have an effect on the secondhand car market this year? Let's wait and see.
ADVERTISEMENT - CONTINUE READING BELOW ↓
Recommended Videos