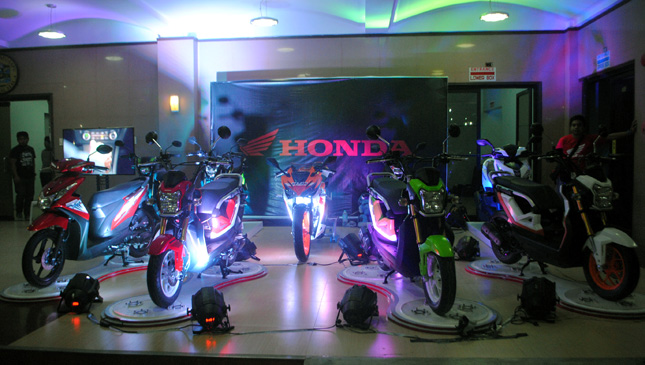 Different Honda motorcycle clubs were accorded the royal treatment by Honda Philippines Incorporated during the launch of its new batch of Gen S motorbikes, held recently at the Hoops Dome in Lapu-Lapu City, Cebu. HPI officials led by president Daiki Mihara believe that just like in Metro Manila, the motorcycle community in highly urbanized areas like Lapu-Lapu and other Cebu cities will continue to grow in the coming years due to traffic problems.
While expecting the sales of Honda motorcycles in the country to reach 500,000 by the end of 2016, Mihara also revealed an important aspect of how his company will achieve that: The opening of the first Honda Flagship Shop in Cebu, which will serve motorcycle enthusiasts by December this year.
Continue reading below ↓
Recommended Videos
The world-class facility will house Honda's exclusive 3S store and a classy coffee shop where customers can relax while thinking of products to purchase, or just waiting for the preventive maintenance service work on their motorcycles to be completed. The upcoming Flagship Shop will also be a venue for test rides of the different Honda motorbikes. It will also serve as the showroom of the first batch of big bikes to be imported and sold by the leading Japanese motorcycle manufacturer in the local market, according to sources.
Donning their club shirts, the riders participated in the 2016 Honda Riders Convention last October 29, which was held as a gesture of appreciation by HPI for the owners' continuous support to the brand. Starting with a long motorcade coming from various rendezvous points in Cebu and its neighboring areas, the riders proceeded to the event venue where they witnessed the unveiling of the new XRM 125 and CBR 150R sport motorbike. The other Gen S motorcycles of Honda include the exciting Honda RS 150, the Zoomer X125 and the XRM 125 special edition.
Following the launch of the new Honda bikes was the Biker Babe competition where at least 10 candidates charmed the riders with their, ahem, beauty and grace, while parading alongside the new Hondas on the center stage.
In the midst of all the revelry, Mihara-san didn't forget to give recognition to the Honda clubs who came from all over the country. One lucky rider even brought home a brand-new Repsol-themed Honda RS150 motorbike, which was raffled off by HPI officials. The grand celebration was capped by live entertainment care of the sensational Parokya ni Edgar.
That's what we call a rockin' royal treatment.