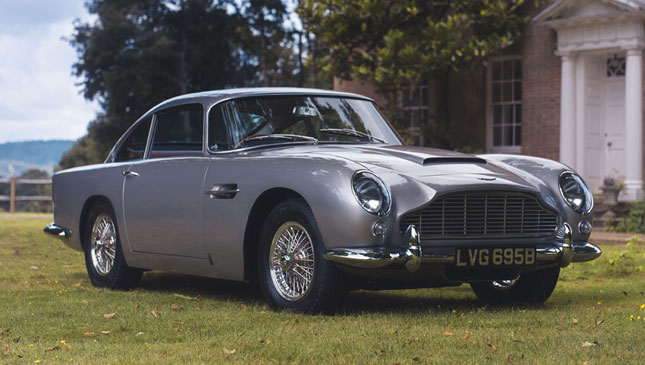 James Bond movies tend to follow a basic checklist: guns, gadgets, and cars. Fans all over the world enjoy the suave secret agent's exploits and all the nifty toys he gets to play with. But of all the fast and luxurious cars that 007 has driven over the past 40-plus years, none are more iconic than the Aston Martin DB5.
ADVERTISEMENT - CONTINUE READING BELOW ↓
The luxury grand tourer was first seen in 1964's Goldfinger, where its spy fittings included machine guns and an ejector seat. Since then, it has been etched into automotive and movie history as one of the most memorable vehicles of all time. This isn't just a Bond car, folks. It's the Bond car.
Fast forward to 2016, and the DB5 makes history once again as the first classic car to be purchased directly through social media. International auctioneer Coys sold a 1964 right-hand drive model for £825,000 (about P50 million) through social platform Vero. The transaction was also the largest known amount ever processed through Apple Pay.
This DB5 has the silver birch color of the movie version, along with a red leather trim in the interior. The car has undergone a full restoration after 20 years in storage, so it has a rebuilt engine and an overhauled suspension and gearbox. The anonymous buyer didn't hesitate after he caught a first glimpse.
ADVERTISEMENT - CONTINUE READING BELOW ↓
Recommended Videos
"The proud new owner saw the DB5 at the Paris Motor Show, and he was overjoyed to see the car of his dreams and didn't want to lose it," said Coys CEO Chris Routledge in a statement. "He was keen to quickly get in front of the queue, so a few days later he hit the 'Buy Now' button on Vero to guarantee the purchase, leaving two other collectors disappointed in his wake.
We can only imagine what the new owner is feeling right now, cruising around in the DB5 and telling anyone who will listen that he never jokes about his work. It's enough to make you feel shaken and stirred all at once.