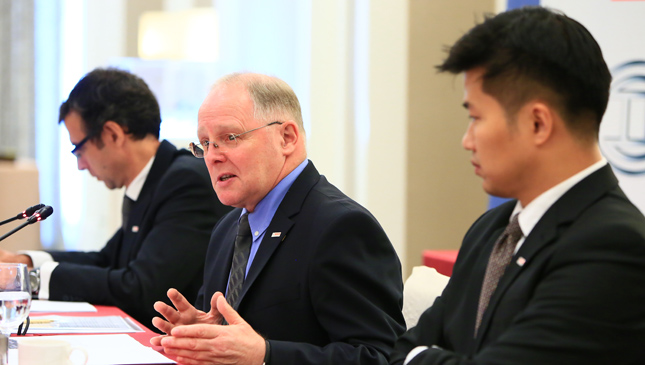 Bosch Philippines recently held a press conference to announce the 20th anniversary of its Manila office, as well as to announce strong growth over the past fiscal year.
Known for being a giant in the field of automotive systems, the German company posted a profit of 32 million euros (P1.608 billion) in consolidated sales for 2014. This reflects an increase of over 45% from the previous fiscal year, making the Philippines the fastest-growing market for Bosch in the Southeast Asian region.
The power tools and automotive business contributed significantly to this positive financial news for Bosch.
"As we celebrate the 20th anniversary of our office in Manila, Bosch remains strongly committed to the Philippine market through continued product and service diversification, employment growth, compelling social and sustainability programs, trainings and partnerships," said Andrew Powell, managing director of Bosch in the Philippines. "For 2015, we expect further sales growth in the country based on an increased demand for our innovative products."
The Mobility Solutions division, formerly known as Automotive Technology, experienced similar double-digit growth, thanks to an expanded distribution network and a broader product portfolio. The latter now includes gasoline system components and automotive batteries. Also, the number of Bosch Car Service and Diesel Centers has increased to 40 workshops over a one-year period.
With its growth, Bosch has also made steps to give back to the Filipino community. It is well aware of the difficulties our country encounters in the form of natural calamities. So Bosch embarked on a rebuilding program for communities stricken by typhoon Yolanda. This included the construction of an elementary school and a library in Daanbantayan, Cebu, which were completed in 2014.
ADVERTISEMENT - CONTINUE READING BELOW ↓
Other CSR projects include the inauguration of a computer laboratory for the Alangalang Agro-Industrial School, and a math and science center for the Alangalang National High School--both located in the province of Leyte. Because people also need to have fun, Bosch constructed basketball courts for underserved barangays nationwide, under its "Paint the Town Red" project.
The great thing about these projects is that Bosch made sure the buildings and construction were built to its standards, and not the grubby, kickback-ridden work that government projects can be known for.
The press conference ended with quick demonstrations of Bosch's latest products and automotive diagnostic services. And this got us thinking. Since an estimated 95% of cars on the road use Bosch products one way or another, we can say that it makes reliable parts. Maybe it can help the LTO make license plates? Just a thought.
Photos by Dinzo Tabamo