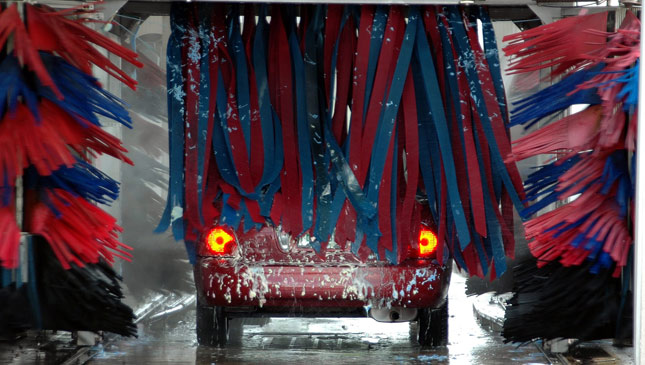 Brake-assist systems, by whatever name or configuration, are a pretty handy thing to have in case of an emergency. They can spell the difference between a sure hit and a near miss for you and the car in front. In some cases though, drivers that have these systems equipped in their cars are experiencing some unexpected side effects.
ADVERTISEMENT - CONTINUE READING BELOW ↓
According to a report by Forbes, a recent survey shows that some cars equipped with brake-assist systems are confused when they try to go through an automatic car wash. That's because the front sensors that activate these systems aren't able to tell the difference between a solid wall or vehicle and a "soft mitter curtain," which are those frilly microfiber gizmos that wipe your car as you drive through. Car-wash owners report that some vehicles are getting stuck in mid-wash because of this. Worse, some cars get so startled by the curtain that they end up hitting the car behind them in an attempt to avoid an accident.
In automatic car washes where the driver is required to leave the car in neutral with the engine turned off, some cars are getting stuck because their handbrake engages automatically or the car needs to be in park before the engine can switch off. And it's not always a matter of just pushing a button to switch off these features, either. In some cars, you need to go through some complex computer work just to access the diagnostics. Sometimes, you can't even switch the features off at all.
ADVERTISEMENT - CONTINUE READING BELOW ↓
Recommended Videos
The list of "confused" vehicles, cited from a survey conducted by BestRide.com, come from the following carmakers: Acura, BMW, Chrysler, Dodge, Fiat, Jeep, Lexus, Mercedes-Benz, RAM, Range Rover, Subaru, Tesla, Toyota, and Volvo.
What do you guys think? Personally, we might stick to the old tabo wash method for the time being.