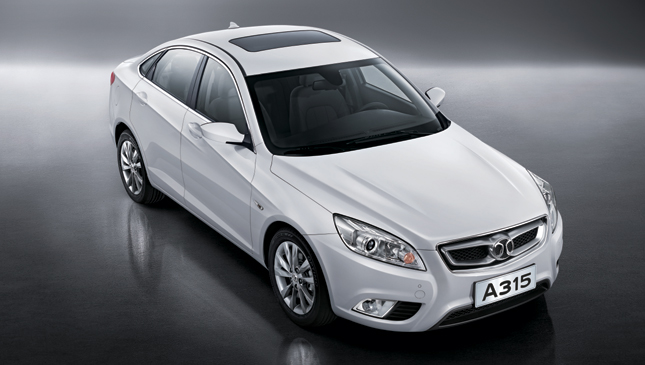 If you were among the thousands of visitors who ogled cars and booth girls at the Philippine International Motor Show last year, then you most likely already know the car brand BAIC. This Chinese carmaker, officially distributed by Bayan Automotive Industries Corp. in the country, had its brand launch at said motor show. Since then, Bayan Auto--a subsidiary of Universal Motors Corporation--has also been mall-hopping to showcase its vehicles to shopping-minded Pinoys.
By the way, BAIC doesn't stand for "Bayan Automotive Industries Corp." The latter is simply the name of the local distributor for our market. BAIC stands for "Beijing Automotive Industry Holding Co."
The Beijing-based carmaker currently has temporary showrooms in Makati, Iloilo and Tacloban. But soon, BAIC (pronounced as "bike" or "ba-eek" by some Chinese locals) will have a hub of its own in different parts of the country where you can check out its vehicle offerings or have your BAIC car serviced. During a plant and facility tour in Beijing with journalists and bankers, BAIC International Development Co. Ltd.'s Southeast Asia region vice director Emily Liu revealed that its Philippine distributor is looking at expanding its dealership network this year. Its prospective locations are the following:
* Bacolod
* Cebu
* Antipolo
* Laguna
* Cavite
* Palawan
* Cagayan de Oro
Continue reading below ↓
Recommended Videos
Agreements are being finalized to erect dealerships in these locations. Since its brand launch in September last year, Bayan Auto has sold more than 29 units. Bayan Auto president and CEO George Chua emphasized that this figure, which was reported to CAMPI, is actual retail sales to consumers and does not include the number of units sold to its dealers.
"The delivery of the units started in November 2014, during which we sold five units," Chua revealed to TopGear.com.ph during the plant visit in Beijing. "In December, we sold six units. Then in January this year, we sold seven and then 11 in February."
It was during this facility tour that the executive was notified that its two MZ40 vans on display in Tacloban had been purchased and 10 more units were ordered.
This year, the Chinese carmaker plans to increase its sales with new dealers and new vehicles. "This year, we plan to sell 50 units per month, and then 100 per month within 12 months," Chua said.
Bayan Auto is planning on introducing to our market the A3 sedan and the W620T SUV. However, no final decision has been made yet, according to Chua. "We have to consider their retail prices," the executive said.
So, what do you think of this Chinese car brand?