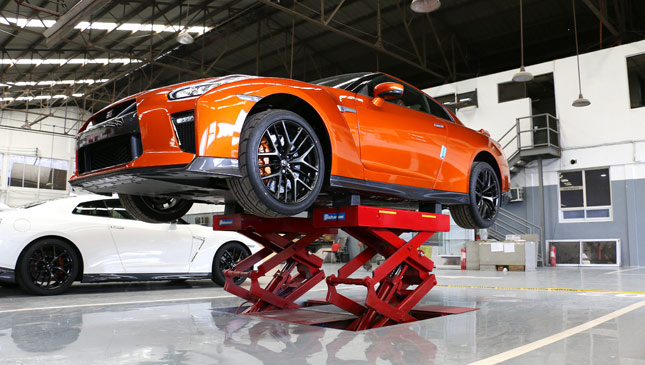 Until recently, anyone who wanted to own a Nissan GT-R in the Philippines had to import one from overseas. The downside to this was that there wasn't anything in the way of aftermarket support from an authorized provider. We can only imagine how challenging it has been for some GT-R owners to keep their supercar killer in top shape.
ADVERTISEMENT - CONTINUE READING BELOW ↓
Now, there's good news for anyone who owns a gray market R32- to R35-generation GT-R. Nissan Quezon Avenue (under MGM Motors), which was recently appointed as the first Nissan High Performance Center (NHPC) in the country, is offering an amnesty program for imported GT-Rs in the Philippines. Under this scheme, GT-R owners who purchased their units from the gray market on or before September 16, 2016, can register in the NHPC amnesty program with the aftersales enrollment fee waived.
Registration with NHPC entitles owners to order original and warrantied parts for their GT-Rs directly from Nissan. They can also avail of the special diagnostic tools, state-of-the-art facilities, and Japanese-taught GT-R expertise of the NHPC technicians. For provincial owners, an NHPC technician within their territory can service their car for an additional charge.
MGM Motors and Autohub Group of Companies president and CEO Willy Tee Ten is confident in NHPC's ability to service the legendary sports car. Nissan Quezon Avenue was the only dealership to pass the rigorous screening process to become a Nissan High Performance Center.
ADVERTISEMENT - CONTINUE READING BELOW ↓
Recommended Videos
Registration for the NHPC amnesty program is open until October 15, 2016. Gray market GT-R owners can still register for NHPC service after this date at the regular rate, provided that they purchased their unit on or before September 16. A different aftersales enrollment rate will apply for GT-Rs that arrive from October 16 onward.
Interested GT-R owners can register at NHPC in Quezon City, or call (632) 731-5308 or (63917) 805-1608. Provincial owners can register with NHPC through the provided phone numbers.