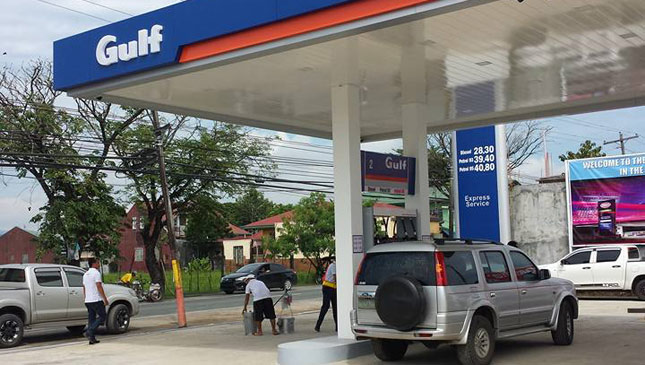 If you're the kind of car owner who gasses up at only one brand of fuel station, there's a new franchise in town that might convince you to switch loyalties.
Gulf Oil Philippines, in partnership with local licensee partner JBY Petrol Trading, has just opened its first-ever fuel station in the country. The branch is located along a national highway in Abucay in the Bataan province. Aside from the fuel pumps, the new location also has a Lube Express service station and a store that sells Gulf's line of oil and lubricant products.
ADVERTISEMENT - CONTINUE READING BELOW ↓
At the official media launch yesterday October 12, Gulf execs said that the company plans to open more Gulf fuel stations in the country in the near future. The new station in Abucay is not only the first one in the country, but it's also the first in the Southeast Asia region.The expansion is part of the company's plan to grow its fuel network in 60 countries by 2020. Currently, its lubricant products are being sold worldwide in over 150 countries. Aside from the gas station in Abucay, Gulf also has lubricant blending plants located in the Philippines.
Motorsport fans will recognize Gulf's distinct orange logo emblazoned on vehicles at races like the 24 Hours of Le Mans and Superbike World Championship. Recently, the oil company entered into a partnership with the Manchester United Football Club as a major sponsor.
What do you guys think? With fuel prices slowly on the rise, will the new Gulf stations change your fueling habits?
ADVERTISEMENT - CONTINUE READING BELOW ↓
Recommended Videos