John Haynes, creator of the iconic Haynes Manual and founder of the Haynes International Motor Museum, has died. He was 80 years old.
Sad news indeed. Haynes was almost single-handedly responsible for inspiring generations of home mechanics. His detailed books gave you step-by-step instructions to dismantle and rebuild practically your entire car. The difficulty of performing individual tasks was represented by a spanner rating, helpfully.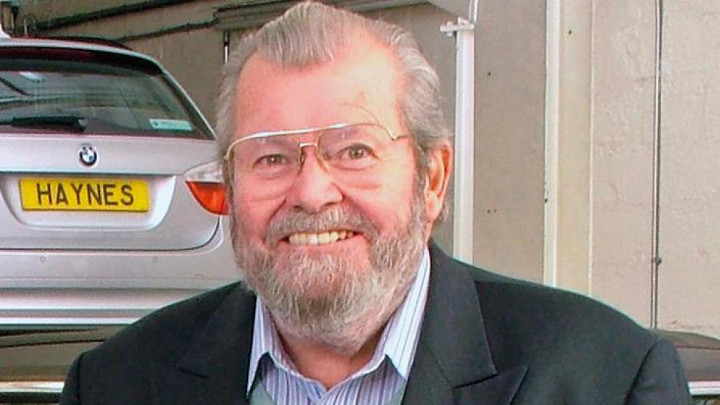 He was born in Sri Lanka, where his father owned a tea plantation, and it was upon this plantation where John's love of cars first dawned; he would often ride around with his father in their Morris 8.
The family moved to the UK when John was 12, to be enrolled at boarding school. Here, he'd get his first taste of the future that would await: He persuaded his House Master to allow him to miss rugby, and he would instead spend his time converting an Austin 7 into a "lightweight sporty Austin 7 special," according to the Haynes website.
ADVERTISEMENT - CONTINUE READING BELOW ↓
He sold the car—making a bit of profit in the process—and decided to write a booklet showing exactly how he'd done the conversion. We're told the first print run of 250 copies sold out in just 10 days.
John was later enlisted in the Royal Air Force to perform his National Service, and it was while posted at Aden that he hit upon a full repair manual. An RAF friend had bought an Austin Healey Sprite, and needed John's help to repair it. He bought a camera, and pictured breaking down and rebuilding the engine.
Thus, the very first Haynes Manual for the Sprite was published in 1966. Currently, more than 200 million Haynes Manuals spanning a raft of makes and models have been sold across the world.
He would later open the Haynes International Motor Museum in 1985, donating his personal collection of 30 cars for the wider public to enjoy. The museum—and educational charitable trust—now houses over 400 cars.
NOTE: This article first appeared on TopGear.com. Minor edits have been made.
ADVERTISEMENT - CONTINUE READING BELOW ↓
Recommended Videos