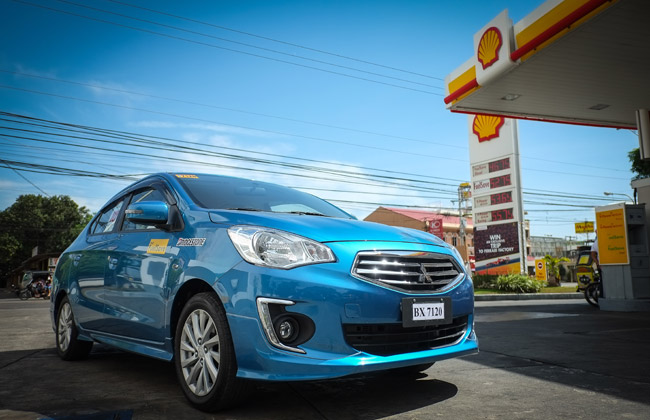 So, a little while back, we joined a fuel-economy run organized by Mitsubishi Motors Philippines for the Mirage G4 subcompact sedan. The competition was participated in strictly by media organizations, and was divided into two groups (manual transmission and CVT). Our team consisted of myself, Sharleen Banzon, Mikko David and Jason dela Cruz. The other teams had either three or four members on board the car. We all brought along bags, as we were to spend the night in Baguio City (although the fuel economy was measured only from Balintawak, Quezon City, to Urdaneta City in Pangasinan).
It was a pretty straightforward contest: Top up at the start, observe the rules, drive safely and top up again at the end. Start and end in this case were Shell fuel stations, the oil company being one of the event partners. One of the rules, as far as I remember, was that you had to leave the air-conditioning on. This was to help simulate real-world driving conditions. Our team agreed to obey that, among other things. You see, in fuel-economy contests involving media participants, finding "loopholes" in the rules had been par for the course. For instance, a team would carefully remove a seal that had been placed over the A/C control so they could turn it off--and then "reseal" the thing again just before the finish point.
Continue reading below ↓
Recommended Videos
We digress: Car companies should stop giving prizes during these fuel-economy runs so that the participants don't have a compelling reason to circumvent the contest mechanics. The goal should simply be to come up with real-world fuel efficiency for the benefit of the consumers--not some bloated, out-of-this-world figures that even an eight-year-old kid would be able to identify as a sham.
Anyway, we assigned Jason to the steering wheel. He maintained an average speed of 60kph to 70kph. Our cabin temperature was set at 24 degrees, just enough to cool the four of us. And quite importantly, we didn't coast or turn the engine off on downhill stretches. It was really just a normal drive--save for our 70kph speed limit.
To be honest, we felt we did well. We thought it was as smooth a drive as anyone could manage. Mitsubishi's fuel-economy claim in its advertising materials for the Mirage G4 was 21km/L. We were sure this figure was out of the question for our team, but we were confident our efficiency wouldn't be too far off.
When the results were announced, we learned we had done a "measly" 14.3km/L, the worst of the five teams in the manual-transmission category. The winner in our category--believe it or not--did 33.6km/L. We leave it up to you to determine whether that is a credible figure under real-world driving conditions.
In the CVT category, which also had five teams competing, the winner registered 26km/L, while the last-placed team did 16.6km/L.
Our team, in other words, had the worst fuel-efficiency performance among all teams regardless of the type of transmission. Which makes me want to ask these questions:
Were we the only team that completely followed the rules?
Was our team that overweight?
Does Jason have a rough right foot?
Am I overanalyzing things?
But seriously, if you're in the market for a subcompact sedan, check out the Mitsubishi Mirage G4. It's a very good, fuel-efficient car. But no, it won't do 33.6km/L or 26km/L. Just saying.
Photos by Mikko David