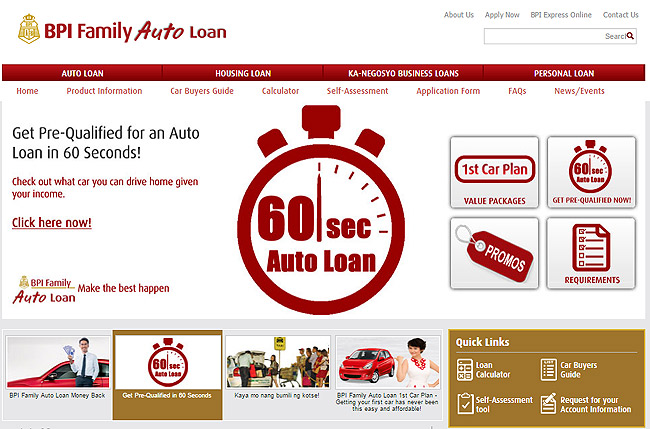 Applying for a car loan just got a step easier. BPI Family Savings Bank has introduced the "60-Second Auto Loan Pre-Qualification" feature of its auto loan website, bpiautoloans.com.
Now, what does this feature help you with? Based on a short questionnaire that asks you your income, the maximum down payment you can afford, and your existing loans and credit card history, it lets you check the available car makes and models that fit your budget. You also get to find out the financing options suitable for your financial capacity.
The questionnaire takes only about a minute, after which it can determine if you are qualified for the loan options you are eyeing. When needed, a BPI Auto Loan personnel will be notified to assist you with your car purchase and related inquiries.
"BPI Family Auto Loan continues to provide the public new and exciting services that make car ownership easy and affordable," said BPI Family Auto Loan head Pepe Carlos. "This year, we take things further by providing clients a fast and easy way to know their best car-financing option, and allowing them to answer the question: Can I now really afford a brand-new car?"
So save your precious time for other activities. Visit bpiautoloans.com and click the 60-second Auto Loan button to start your car-shopping. Enjoy!
Continue reading below ↓
Recommended Videos