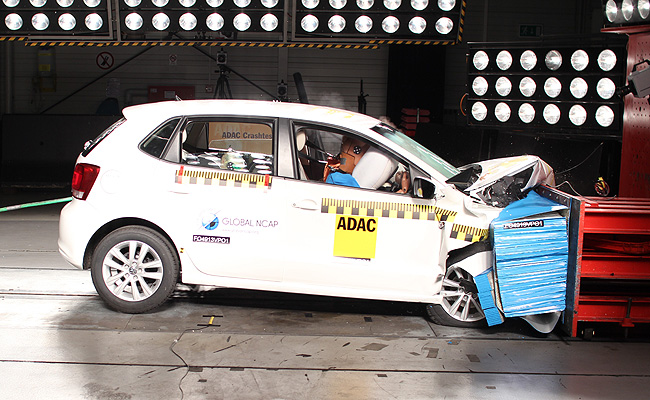 The first-ever independent crash tests of India's popular mini hatchbacks as conducted by the Global New Car Assessment Program, have reinforced what the United States' Insurance Institute for Highway Safety discovered recently--that these types of vehicles exhibit a high risk of life-threatening injuries.
"India is now a major global market and production center for small cars, so it's worrying to see levels of safety that are 20 years behind the five-star standards now common in Europe and North America," said Global NCAP chairman Max Mosley. "Poor structural integrity and the absence of airbags are putting the lives of Indian consumers at risk. They have a right to know how safe their vehicles are and to expect the same basic levels of safety as standard as customers in other parts of the world."
The tests involved the Suzuki Alto 800, the Tata Nano, the Hyundai i10, the Ford Figo and the Volkswagen Polo, which, combined, reportedly made up 20% of new-car sales in India in 2013. As an additional parameter, Global NCAP chose to test the entry-level variants of each model, which meant they weren't fitted with airbags.
Following the United Nations' basic crash test--a 40% offset frontal impact at 55kph--the vehicle structure of the Alto 800, the Nano and the i10 proved inadequate and collapsed at varying degrees, "resulting in high risks of life-threatening injuries to the occupants." To illustrate just how dangerous the three aforementioned cars are, Global NCAP stated that even if airbags were fitted into the vehicles, these "would not be effective in reducing the risk of serious injury."
ADVERTISEMENT - CONTINUE READING BELOW ↓
On the other hand, the Figo and the Polo had more stable structures, which meant that if they were fitted with airbags, "protection for the driver and the front passenger would be much improved." With airbags for the Polo's driver and front passenger, the vehicle scored a four-star rating for adult occupant protection.
As expected, though, the Society of Indian Automobile Manufacturers questioned Global NCAP's results, saying that the tests were based on protocols that are not valid for India.
"Different organizations have the right to do what they want," The Economic Times quoted Maruti Suzuki India chairman RC Bhargava as saying. "You can't stop people from doing it. But before one arrives at a judgment, one needs to look at the Indian driving conditions. What is the average speed, how many times the airbag is deployed and what is the purchasing power?"
Irrelevant questions, if you ask us.