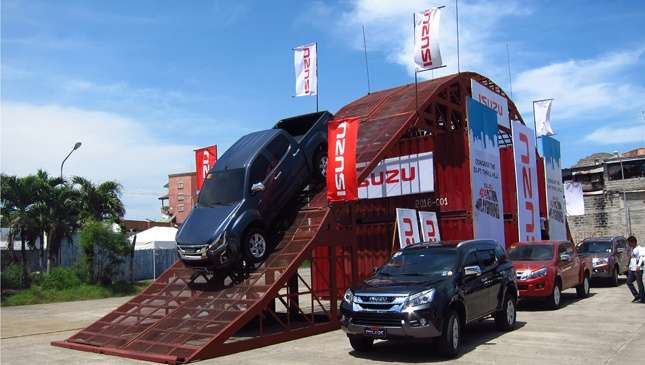 We were invited to the final leg of the Isuzu 4x4 Playground that was held in Cagayan De Oro recently. If you suffer from acrophobia, the 30-foot Thrill Hill isn't for you. But it sure is a hell of a way to showcase the capabilities of the MU-X 4x4 and D-Max 4x4 3.0-liter variants. If you missed this event, don't worry. Isuzu has other events like this in the works.

The event, which popped up at selected venues nationwide, gave everyone a chance to experience what it is like to traverse a special course meant to simulate extreme off-road conditions. Portions included the slipper slope, the articulation ramp, and the 40-degree transverse-angle ramp. The 30-foot Thrill Hill is the star, though. Check out the pictures.

After the event we got to sit down with the Isuzu PH division manager for marketing and sales Joseph Bautista to chat about the brand and the successful Playground activity. "The reception is good," he says. "We are proving that the MU-X and the D-Max can do it all." In some provinces more than 1,000 visitors walked in during the duration of the event. Joseph is so pleased with the capabilities of the D-Max and MU-X, he's confident that they can handle more than 50 degrees on the transverse-angle ramp.

What should we expect from Isuzu PH this year? "There will be plenty of launches, and the highly anticipated MU-X will be coming this year," he shares. "We can assure you that the Philippines will have one of the best specifications for the MU-X."
Continue reading below ↓
Recommended Videos
We also mentioned how well the D-Max is doing despite the very stiff competition. "The brand equity of the D-Max is what we call Isuzu R.E.D.," he explains. "It is reliable, efficient and durable. It also more affordable than the rest, and it has the highest power output in the 4x2 variants. And it got the highest fuel efficiency figure during the DOE economy run. Plus, it won Truck of the Year in last year's COTY PH. In 2016 almost 4,000 D-Max units were sold."
An interesting fact that Joseph shared with us is that the Crosswind, D-Max, and the trucks (except the Giga) are all assembled in the Philippines. And here's how the components are broken down: 20% of D-Max is locally sourced; for the trucks, 10% is locally sourced; and for the ever-enduring Crosswind, 40% of it is locally sourced.
No matter what anyone says about the aging Crosswind, it's good to know that the nameplate is a source of jobs and income for Filipinos involved in the OEM chain.

Lastly, we asked Joseph about how Isuzu's Japanese principals view the political climate. "We had one of the best economies last year," is his response. "We did really well. The top executives pay more attention to the economy than the political situation."

So, there you have it. We can't wait to see what Isuzu PH has in store for us this year. Watch this space for updates.