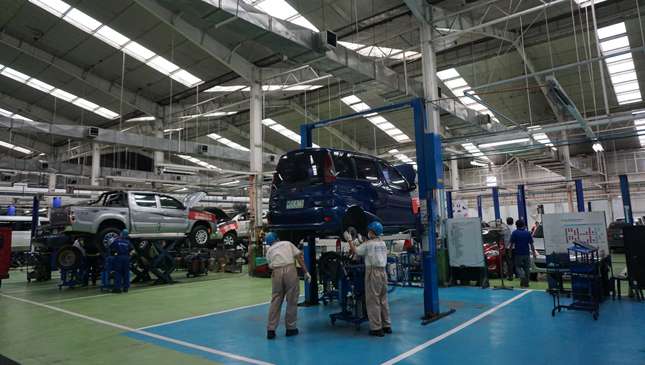 The latest J.D. Power Philippine Customer Satisfaction Service Index numbers are in, and it doesn't look too good.
Overall satisfaction with after-sales service at authorized centers fell to an average of 793 points in 2017 compared to 822 the year prior. That's a significant 29-point drop, putting satisfaction at its lowest since the study was first launched way back in 2001. The biggest culprits? Service initiation and pick-up.
J.D. Power senior manager Loïc Pean cited longer vehicle turnover due to "rapidly increasing service volumes" as a major factor for the huge drop. "Service networks are not expanding as fast as market demand, which creates challenges for service centers to handle the increasing traffic within a reasonable time—in a very time-conscious market—while also maintaining high-quality service standards," she said.
The numbers back up her claim, too. Service appointments increased from 40% in 2016 to 47% in 2017, and securing an appointment now takes longer as well, with 72% of customers saying it took them more than two days to set one. Three out of 10 customers say they had to wait over nine minutes before finally speaking to a service advisor, while 41% say the vehicle handover process took over 30 minutes.
ADVERTISEMENT - CONTINUE READING BELOW ↓
J.D. Power country manager Sigfred Doloroso says dealerships are feeling more pressure now because of capacity issues. "This translates into a decrease of certain quality standards, which has a noticeable effect on customer satisfaction, such as providing accurate service cost and time estimates or the cleanliness of the vehicle on return. It is crucial that service advisors take more time to communicate with and offer advice and explanations on vehicle maintenance to each customer," he said.
Other findings in this year's study include a jump in vehicle quality issues and repairs (2% to 6%), an increase in car owners disappointed with overall vehicle quality (9% to 17%), and more customers saying they had repairs done during their most recent service visit (up by 3%). What's more, customers are paying higher service fees and paperwork and pick up times have increased.
Honda finds itself at the top of this year's rankings with a score of 803, followed by Hyundai (798 points) in second and Mitsubishi (797) in third. The industry average is set at 793 points. Below is the complete ranking of mass market brands in the Philippines:
1. Honda – 803 points
2. Hyundai – 798 points
3. Mitsubishi – 797 points
4. Mazda – 795 points
5. Toyota – 795 points
6. Isuzu – 793 points
7. Kia – 788 points
8. Chevrolet – 786 points
9. Ford – 785 points
10. Suzuki – 777 points
11. Nissan – 772 points
So, do you agree with the study's findings? Let us know in the comments.