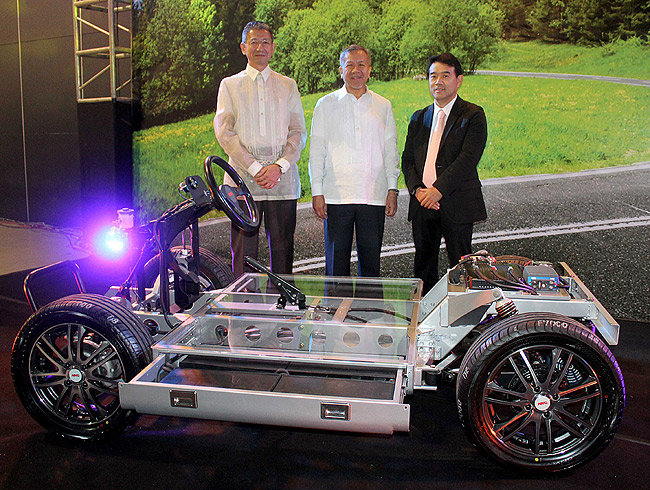 Who's excited to see economical electric vehicles ply our streets?
Neues Co. Ltd and Kart Plaza Manufacturing Corp., a Philippine electric golf kart distributor and servicing company, have teamed up to locally manufacture affordable and economical electric vehicles. These vehicles will be made available in the Philippines.
A five-year-old subsidiary of the NKC Metalworks Group of Osaka, Japan, Neues will provide the complete EV platform and stand-alone charging stations. Kart Plaza, meanwhile, will use this platform to locally develop, assemble, distribute and service the affordable EVs. Serving as exclusive distributor and marketing arm of the Japanese subsidiary, the Philippine electric golf kart distributor will also help design and manufacture the EVs.
"The emissions produced by internal-combustion engines are contributing to the degradation of the earth's atmosphere, resulting in pollution that affects our collective health and well-being, not to mention the unpredictable and extreme weather patterns we are now experiencing as a result of global warming," said Kart Plaza managing director Johnny Tan, who, by the way, also owns Clark International Speedway. "Electric vehicles are one answer to the problems. They are the wave of the future, and today in the Philippines, we are about to ride on top of its crest with the introduction of an evolving concept in transportation, which is sustainable, economical and for the Filipino."
Continue reading below ↓
Recommended Videos
EV prototypes were shown at last week's press conference. Check out the photos of the EV jeepney, sports car and SUV below.
"When we designed the platform, the world safety standard rule was integrated into our electric vehicles," said Neues EV development head Keisuke Imada. "We also adopted up-to-date technology for driving and riding comfort at an affordable price. The major costs of the EV are the batteries and its management system. Our Japanese team is composed of experts in developing car chassis, but the final styling, assembling and design of the body exterior and interior will be handled by Kart Plaza."
Are you ready to ditch your conventional car for a locally produced EV?