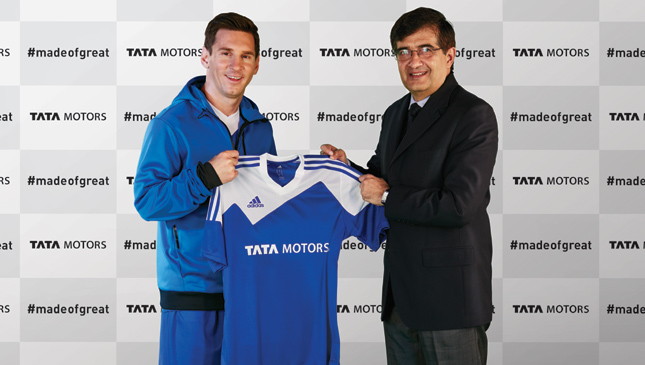 International football superstar Lionel Messi is now the face of Tata Motors, after the Indian auto manufacturer signed the 28 year-old Argentinian to be its global brand ambassador for passenger vehicles.
The deal marks the first time that the 2014 FIFA World Cup Golden Ball holder will be linked with an Indian brand. Likewise, this is the first time Tata has associated its passenger-vehicle business with a global brand ambassador. Both parties have expressed excitement over the partnership, which is aimed at rolling out Tata's #MadeofGreat marketing campaign.
Messi, who once visted India as part of the Argentina national team, said he is looking forward to the partnership, adding that it was great to finally be working with an Indian company. "Namaste India," he said. "I am very excited about my first association with an Indian brand, and am extremely thrilled to be a part of the Tata Motors family. I have always been fascinated by India and have heard such great things about this diverse country."
Tata Motors passenger-vehicle business president Mayank Pareek shared the same sentiments as the football megastar, even praising the Argentinian for his superb skill on the field. "We are very excited to have Lionel Messi on board," he remarked. "He is talent galore with conviction, and is an icon for today's youth. Watching him play football is magical. His determination on the field is awe-inspiring."
Continue reading below ↓
Recommended Videos
This partnership comes at an opportune time for Tata Motors, as the company is currently experiencing month-on-month growth for its passenger-vehicle unit. Could Messi's stamp of approval push India's largest carmaker to the next level in terms of global brand recognition? With Messi's legions of fans, the possibility might not be as far-fetched as you think.