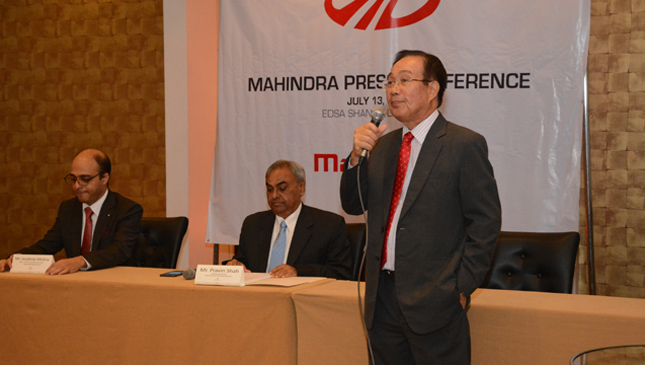 Mahindra, India's leading SUV manufacturer, has officially made its way to the Philippines with three new showrooms in Manila. A press conference was held earlier this week, wherein top executives from both Mahindra and Asianbrands Motors Corporation (AMC), Mahindra's local distributor, shared their expectations.
Present during the press conference were Pravin Shah, president and chief executive of Mahindra's automotive division; Felix Mabilog Jr., AMC president; and Joydeep Moitra, Mahindra's head of international sales.
Shah commended both his team and AMC for finding Mahindra the opportunity to enter the Philippine market. Specifically, he said that Mahindra hopes to offer enterprising Pinoys reliable, durable and affordable vehicles.
"I think that my team--along with Asianbrands Motor Corporation--has done enough work to realize that there lies a gap in this specific segment, and there's an opportunity for us to gain the respectable volume," Shah shared during the press conference. "And once you gain the respectable volume and you delight the customer, which is part of our 'Rise' philosophy, I'm sure the country will reward us."
Mabilog expressed the same sentiments: "Our models, our brand, will cater more to what the ordinary Filipino really needs. Our pickup will be for ordinary or big businesses that need reliable, fast and dependable vehicles to transport goods and people, but at a price that is reasonable. And that's where the difference is."
Shah added that Mahindra always makes sure there's a place for its vehicles before penetrating a market. "Before entering a market, we always ensure that we have a right to be in that specific segment," he explained. "If we are not number one or number two, we will withdraw from the market. Even if we decide for some god-forbidden reason to exit the market, we take care of the customers until the time the customers want us at any cost. So we're committed to this market. We have a very proper, robust plan."
ADVERTISEMENT - CONTINUE READING BELOW ↓
Call it cautious optimism if you will, but it looks like Mahindra is off to a pretty solid start. The Enforcer was recently selected by the Philippine National Police as its transport vehicle of choice. We'll just have to see if civilian customers will be just as receptive.
ADVERTISEMENT - CONTINUE READING BELOW ↓
Recommended Videos