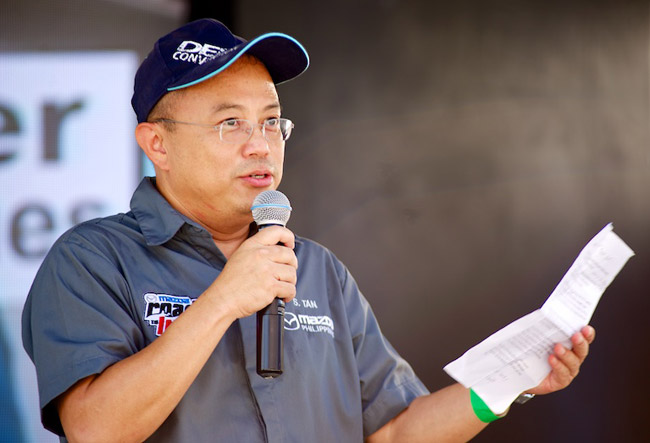 One dubious business practice in the Philippine automotive industry is the dealerships' refusal to sell a new and in-demand car to cash buyers, insisting instead that the latter avail of their in-house financing. Obviously, it's because there's more money to be made in financed purchases, the interest giving the salesperson a bigger commission and the dealership a higher profit. The point is this: If you want to buy a sought-after car today, shell out more; otherwise, fall in line at the back of the queue and wait.
Is this illegal? Not really. Dealers have every right to refuse sale to anyone. They can even play around with the pricing a little bit--that's why it's called MSRP, or manufacturer's suggested retail price. Still, the practice of coercing buyers to avail of in-house financing is potentially damaging to the brand.
That is the belief of Mazda Philippines CEO and president Steven Tan, who told TopGear.com.ph that he has asked his dealers not to take advantage of Mazda 3 buyers who want and are able to buy the compact car in cash. As you know, the 3 has only been recently launched, and the current waiting time for it is 1.5 months. Understandably, morally suspect members of Mazda's dealership network will see this as an opportunity to milk customers who demand to drive home a unit as soon as possible.
Continue reading below ↓
Recommended Videos
"I've told our dealers that if they refuse selling the car to cash buyers, we will cut off their allocation of units," Tan said. "Some of them will ask: 'But why? Now is our time to reap'. I tell them: If you do that, you will damage the brand and lose the trust of your customers. You're only thinking of the short term. What happens when the model is no longer as hot as when it was new?"
Indeed, our online managing editor Tracy Carpena tells the story of her aunt who recently went to a dealership of a leading Japanese carmaker to purchase its popular compact sedan in cash, only to be informed by a sales executive that she had to avail of the dealership's in-house financing if she wanted to get a unit. Tracy's aunt found it unacceptable that she was being forced to pay more than what the sticker price indicated, just so some individuals could earn "more". To cut the story short, Tracy's aunt went to Mazda Alabang and got a 3 instead (after reading our test review, we must add).
"If our price tag says P945,000, I want to make sure that our customers can really buy the car at that exact amount," Tan declared. "I want our customers to trust us and do business with us not just once but over the long term."
To prove his seriousness about the issue, Tan told us: "If a customer faces a problem, he/she can write to customer.service@mazda.ph, stating the car model, the name of the sales agent, and the name of the dealership. Please leave a contact number for us to call back."
There you go. If you want the Mazda 3 (or any other Mazda model for that matter) badly and can pay in cash, you can tell the salesperson attending to you that Mazda Philippines' big boss has your back.
Photo by Carlo Chungunco