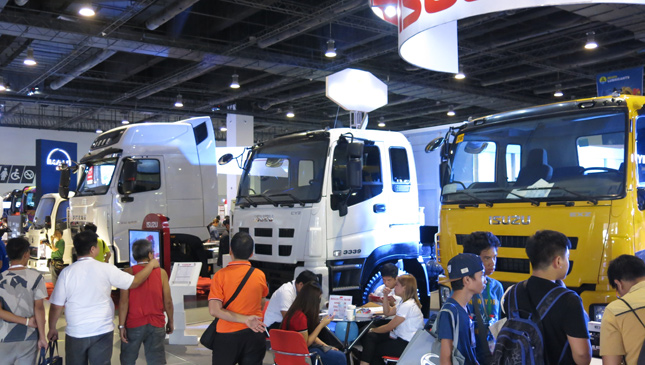 There's a huge event happening this weekend at the SMX Convention Center in Metro Manila. From July 13 to 15, auto aftermarket retailers and distributors, as well as audio visual equipment enthusiasts, can source parts and accessories directly from manufacturers at PhilAuto 2018. Garages and workshops can also check out the latest service and repair equipment. Gates are open from 10:00am to 5:30pm.
PhilAuto 2018's scope covers the latest products, developments and technologies for commercial vehicles; automotive parts, systems, accessories, electronics and entertainment devices; motorcycle parts and accessories; specialized tuning and modifications tools; and automotive service, repair, and maintenance equipment.
Continue reading below ↓
Recommended Videos
Happening at the same time and at the same venue is the Philippines Bus & Truck Exhibition (PHILBUS and TRUCK 2018), Philippines International Cold Chain Industry Expo (ColdChain Philippines), Philippines International Material Handling, Warehousing & Storage Equipment & Technology Exhibition (PHILMAT), and Philippines International Tyre Exhibition (PHILTREX).
According to the organizers: "This event is the biggest business-to-business platform where you can gain new insights, source new supplies, learn directly from international experts in the industry, and be updated about the latest issues and developments to improve your business. Occupying more than 50,000 square feet of space and with an expected attendance of 4,000 visitors, PhilAuto has received support from three key Associations: the Philippines Parts Makers Association (PPMA), the Philippines Automotive Traders Association (PATA) and the Haulers and Truckers Association in the Waterfront, Inc. (HATAW).
The event is a one-stop platform for all those involved in the automotive aftermarket industry and the transportation and logistics business. The expo will feature over 200 international and local companies and brands from countries including Malaysia, China, Korea, Singapore, Taiwan, and Thailand.

This is the fifth edition of PhilAuto, and it is indeed timely. "The Philippines has seen a steady growth in the automotive market, as auto sales continue to soar," says the organizer. "This vast growth is spurred on by increased domestic consumption, favorable financing offers, trade, and investments." Worth a visit? You bet. There might be an opportunity waiting for you.