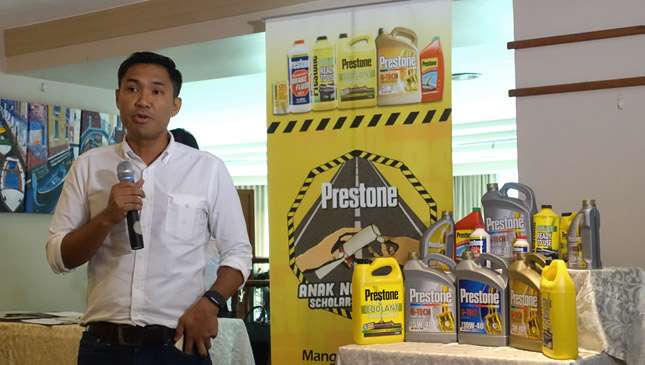 Here's a small-talk topic you can bring to the auto shop the next time you bring your car: Prestone's scholarship program exclusive for mechanics' children is looking for nine deserving candidates nationwide.
Dubbed "Anak ng Mekaniko Scholarship Program," it will support the college education of the selected scholars, who can choose any four-year course in any STI College branch in the country. Children of auto mechanics of any talyer or casa may apply if they are high school graduates, graduating senior high school students, passers of the Alternative Learning System or Philippine Education Test, or if they want to go back to school and finish college.
The full scholarship for each successful candidate is worth P100,000 per year, and covers tuition fees, stipends and allowances. During the press conference, Prestone brand manager Monique Gonzales shared that the annual tuition fee at STI is about P70,000 to P80,000. The remaining amount will be managed by the academic institution to make sure the scholar gets to use it for other school needs.
"We have chosen STI because they have the largest network in the Philippines, and they are very supportive to make this a success," said Gonzales. "We want the children to be successful in the future, and it takes so much more than just giving tuition fee. STI will be our partner to ensure the students will be on the program from start to finish."
The company is celebrating its 90th anniversary in the industry and wants to give back to its partner auto mechanics through the scholarship program.
"Prestone values the contribution made by auto mechanics to the brand's success," said the company's sales and marketing director Paulo Lao in a statement. "All of these will not be possible without the support of our loyal users, especially the local auto mechanics, who journeyed with us."
Interested applicants may submit entries until 5pm on the 15th of February 2018. Best of luck!