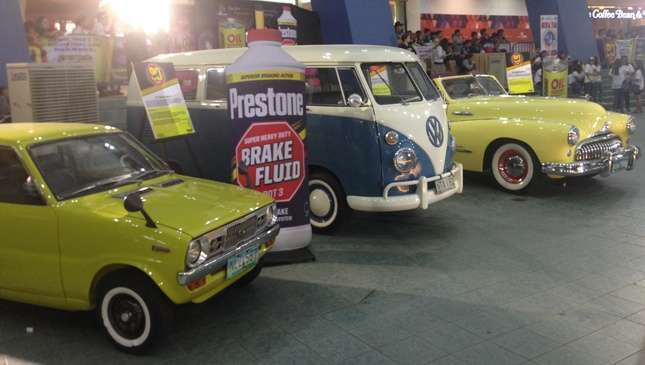 Prestone first started in 1927 as an engine anti-freeze/coolant in the US, and the product saw heavy use in war vehicles. The brand then grew in reputation and became not only known for its coolants, but for its brake fluids as well. The ownership of Prestone has changed hands through the years, until it was eventually acquired by Clorox.
Prestone entered the Philippines in the '60s, and there are distributors here that have been selling the product for more than 50 years already. It is a heritage brand for a lot of Filipinos. When Pinoys look for brake fluid or coolant, they usually ask for Prestone. This is kind of like how toothpaste is known as Colgate in some parts of the Philippines.
Continue reading below ↓
Recommended Videos
Anyway, Prestone celebrated its 90th Anniversary recently at the Mall Of Asia concert hall with a variety show and classic-car display.
"It's a strong brand, even after 90 years," says Maritess Dagdag, general manager of Clorox International Philippines. "It continues to be relevant and is a trusted brand by all consumers. We want to use the opportunity to thank our distributors, and if we count the number of years of experience that they have selling Prestone, it will total a thousand years or more. They are very hardworking, and they are getting ready to pass this on to the next generation."
Maritess says that looking to the future, she believes that Prestone can still expand its portfolio. "But what's important is that we still provide the quality products that consumers trust," she added.
Paulo Lao, sales and marketing director of Clorox International Philippines had this to add: "For the next 90 years we have innovations in store. Worldwide, Prestone is the undisputed leader in automotive fluids. We want to enter new categories and go into lubricants. We want to be an established fluids and lubricants brand. We want to position Prestone as the most trusted brand for total car care."
Another highlight of the celebration was the announcement of the Anak ng Mekaniko Scholarship Program to give back to Prestone's partners in protecting cars for the last 90 Years—the mechanics and their children.
Congratulations on the huge milestone, Prestone!