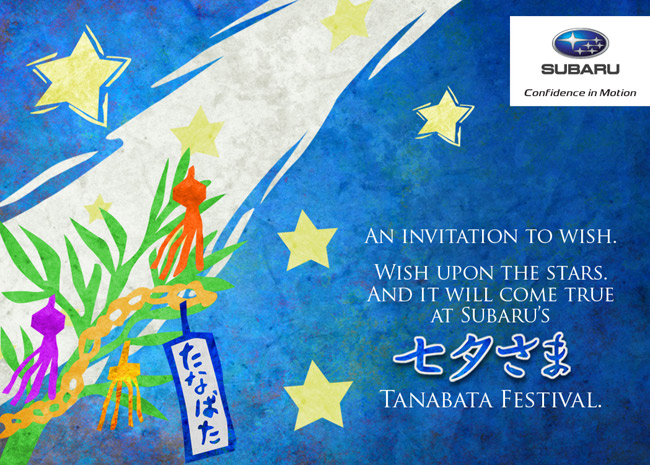 Motor Image Pilipinas, the official distributor of Subaru vehicles in the country, is once again showing how much it values its customers. On July 18-20, the Japanese carmaker will hold the Tanabata Festival at all its showrooms nationwide from 9am to 8pm.
A Japanese star festival stemming from the Chinese Qixi Festival, the Tanabata Festival celebrates the meeting of Orihime and Hikoboshi, deities who are represented by the stars Vega and Altair, respectively. Legend says that the Milky Way separates the lovers; they are allowed to meet only once a year on the seventh day of the of the seventh lunar month of the lunisolar calendar. (Yes, we know...it's a little complicated.)
"Our business has been continuously growing for the past two years," said Motor Image Pilipinas general manager Mike Luyun. "With this, we were able to end 2013 with a record-breaking performance ever since Motor Image Pilipinas started its operations in the Philippines. Without the help of our customers, this wouldn't have been possible. We are continuously building on this momentum to grow our presence in key cities, to reach our Subaru fans, and will continue our efforts to make sure that we give excellent customer service."
Now, what should prospective Subaru customers expect from the event, which is now in its second year? Special offers and financing schemes await visitors.
Continue reading below ↓
Recommended Videos
"For this year's Tanabata, we are focusing on upgraded accessories for our vehicles," said Motor Image Pilipinas marketing executive Fitzcarlo Sarte. "These may include touchscreen head units, portable GPS units, and even special incentives for Subaru bodykit." Some showrooms will also enhance the festive mood by having their interiors decorated to reflect the Japanese festival, and serving free Japanese food.
Enticing?