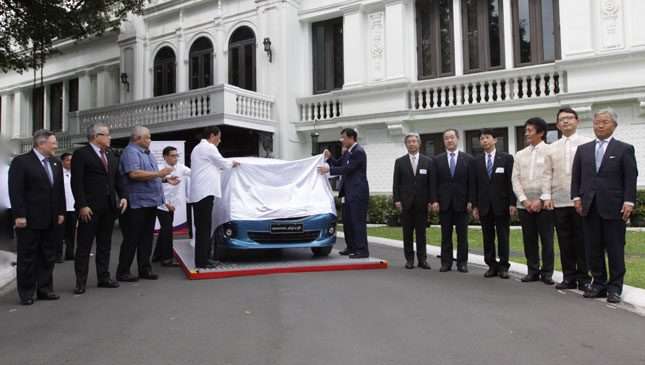 If you buy a Mitsubishi Mirage in the near future, chances are it will be made by Filipino hands. Mitsubishi Motors Philippines Corporation (MMPC) has announced that local production of the small sedan has begun at its 21-hectare plant in Sta. Rosa, Laguna. The Mirage G4 is the first vehicle to be manufactured under the government's Comprehensive Automotive Resurgence Strategy, or CARS.
In recognition of the importance of this occasion, MMPC was given the opportunity to present the first Philippine-made Mirage G4 to President Rodrigo Duterte in a simple ceremony at Malacañang Palace. The Mitsubishi top brass were in attendance, led by Mitsubishi Motors Corporation (MMC) president and CEO Osamu Masuko, who flew in from Japan just for the occasion. Also present were Sojitz Corporation vice chairman Shigeki Dantani and MMPC president and CEO Yoshiaki Kato.
Continue reading below ↓
Recommended Videos
Already one of the more popular models in the market, producing the Mirage G4 here will generate job opportunities for both MMPC and local suppliers. Production of the G4 began last February 14, with the hatchback's local creation commencing in May this year. MMPC's target is to build 20,000 units by the end of the year. With a stamping plant set to go online in January 2018, the percentage of Mirage built locally will reach 50%. And further down the road, MMPC is aiming to have 70% of the Mirage made here.
So far, MMC has already sunk P4.3 billion for the production facilities and equipment for building Mirage models. The seeds of this operation were planted during President Duterte's visit to Japan last year, when a memorandum of understanding was signed between the Philippine government and MMC.
Mitsubishi is confident that the locally made Mirage is of the same quality as global models. According to MMPC president and CEO Yoshiaki Kato, "the Mirage, being one of MMC's global car models, brings forth pride to both MMPC employees and local parts suppliers. As a next challenge, we have to step up our Quality Cost Delivery programs to be competitive with other MMC production facilities."
So the next time you're in the market for a small car, you just might want to consider something built by fellow Filipinos.