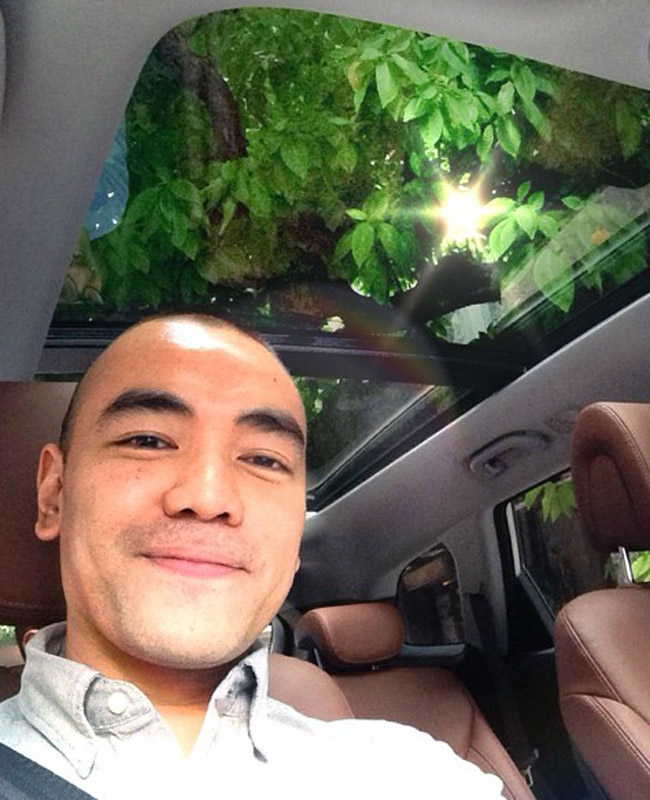 The guy you see above is Hyundai Philippines assistant vice president for brand activation Paeng Batuigas. He's comfortably seated inside a Grand Santa Fe, which, if you haven't heard, has a panoramic sunroof as a standard feature. If you were Batuigas and had been tasked to highlight the strengths not only of your brand but also of the specific models under it, how would you do it?
An advertising campaign? Sure, but it's boring. Not to mention expensive. A press release perhaps? Just as unimaginative--especially when published by copy-and-paste "journalists." A marketing event? Always a logistical nightmare.
But Paeng here is one creative and fun-loving dude. He won't allow himself to be deterred by budget constraints or corporate red tape.
First, he posted a photo of himself inside the Grand Santa Fe on Facebook and Instagram, with the SUV's humongous sunroof displayed in all its glory. "I'm loving the panoramic sunroof of the Hyundai Grand Santa Fe," said his caption. For good measure, he also gave the pic this hashtag: #Jurassic Park.
Next, he posted almost the same photo, but this time the sunroof afforded a sighting of a flock of birds flying in a V formation. "This amazing view," he said.
Continue reading below ↓
Recommended Videos
Finally, Batuigas posted a third photo, this time showing a familiar figure hovering above the Grand Santa Fe. "Wrong bald man, Magneto," he wrote.
The posts got quite a number of likes and comments. Certainly not as far-reaching as a traditional ad, but a hundred times more fun (and cost-effective, lest we forget). We bet you won't be able to look at Magneto again without remembering the Grand Santa Fe and its expansive sunroof. If only there were more playful executives like Paeng around the car industry these days.
Photos from Paeng Batuigas's Facebook page