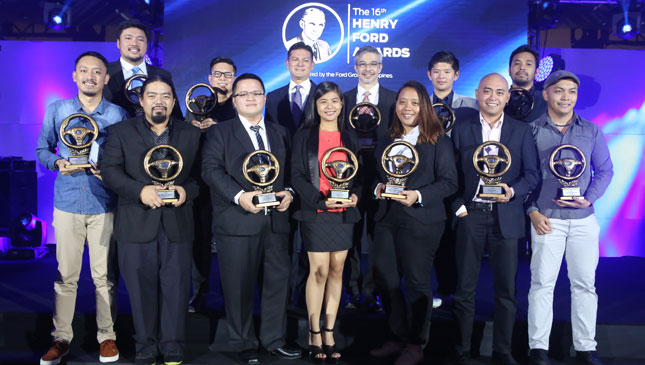 Whenever we hear a positive remark about our work, whether it's a friendly emoji on social media or a passing compliment in person, we get a warm and fuzzy feeling inside. No, really. Our team puts in a lot of work and time to bring you guys the best automotive content possible. We're humbled when we're recognized and it inspires us to do even better.
So you can only imagine how happy we were at the 16th annual Henry Ford Awards. In all, Top Gear PH won five trophies on the night. Niky Tamayo was awarded in the Automotive Print Feature category for his story 'Uncivil war' published in our June 2016 issue. Motorcycle editor Aris Ilagan, meanwhile, was recognized for his 'Checkpoint' column in our magazine. In the Published Photograph category, Alfred Mendoza was awarded for his 'Overtake' photo of the Mitsubishi Montero Sport in our Dec 2015/Jan 2016 issue.
In the Automotive Online Feature category, print officer-in-charge Paulo Rafael Subido's guide to finding a good talyer won the award. And lastly, videographer Ray Gonzales was recognized for his video of the BMW X1, nabbing him the Automotive Video Feature trophy.
"It's an honor each year to recognize our friends from the media for their professional and creative delivery of meaningful journalism. The Henry Ford Awards is a great way to highlight the contribution of journalism and its role in the motoring industry," said Ford Philippines managing director Lance Mosley.
None of this would have been possible without you, our ever-supportive readers. Thank you, guys, for your continued trust in us. Cheers to another great year in 2017!